Young players who shone during the Euro 2020
With aging superstars like Lionel Messi, Cristiano Ronaldo and Zlatan Ibrahimovic (and to some extent also Robert Lewandowski, being 32 years old), the question is which players will take over as the entire football world's superstars when they have retired. Here we look at the young players who shone a little extra during the European Football Championship 2020 and have the potential to shoulder their roles as football superstars.

An already obvious candidate that everyone had probably thought before the European Championships would top this list is France's Kylian Mbappe. However, Mbappe did a surprisingly weak European Championship and in addition to leaving the championship goalless, he crowned his "failure" to miss the last penalty in the round of 16 against Switzerland, which meant that France were knocked out.

Below we list the five young players that we think shone the most and believe will be able to become important stars in the future.


5. Alexander Isak, Sweden - 21 years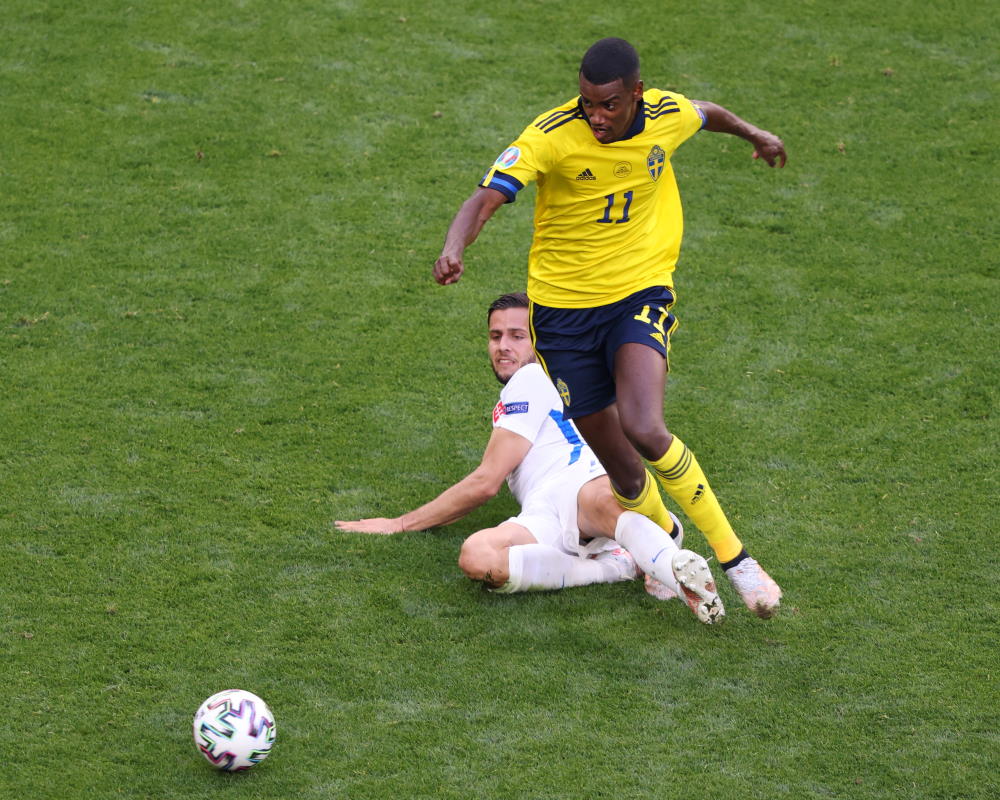 We start the list with Sweden's super talent Alexander Isak. Isak came from a fantastic club season with Real Sociedad, scoring17 goals in La Liga, which was enough for a sixth place in the top scorer list.
Isak did not score any goals during this European Championship, but he really excelled with several impressive dribbling raids and several "almost goal".

In Sweden everyone knows what an exceptional talent Isak is many outside Sweden (and possibly Spain) who did not know him so well before the European Championships certainly know who he is now. Among other things, England's great icon Gary Linker tweeted this after Sweden Slovakia match:

Don't think there's much doubt that Alexander Isak will attract a lot of attention from clubs across Europe. Exceptional talent.

- Gary Lineker 💙 (@GaryLineker) June 18, 2021
4. Bukayo Saka, England - 19 years
In fourth place we place England's Bukayo Saka. Saka did not play much but did fantastically well when he was on the pitch.

He played his first match in the last group match against the Czech Republic and impressed everyone so much that he was named the player of the match. He also played in the semi-final against Denmark, and it was his cross that made Simon Kjær score an own goal, which was England's equaliser in the match.

In the final, he replaced Kieran Trippier in the second half and played the end of regular time and the entire overtime. Once in the penalty shootout in the final, he did what he will unfortunately be remembered for primarily from this European Championship. He missed England's last penalty, which meant that England lost the final.

That he missed the penalty is of course very unfortunate and one can hope that it does not weigh on him too much in the continuation of his career, because in Bukayo Saka England and Arsenal have a true talent that can very well develop into a really star player - he is after all only 19 years old.


3. Mikkel Damsgaard, Denmark - 21 years
Mikkel Damsgaard was not a big name before the European Championships and there were few outside Denmark who had any kind of Knowledge of him. However, after this European Championship he has really made himself a name and Sampdoria, to which he belongs, are probably rubbing their hands expecting an upcoming big sale.

Before the European Championships he had only made three international appearances for Denmark but played all matches in the European Championships except the first against Finland, and he only got better and better the longer the tournament lasted.

Some people think he is reminiscent of Cristiano Ronaldo in playing style and he is indeed very fast, creative and extremely elusive so the parable does not feel completely wrong. In addition, he scored a free kick in the semi-final against England which could just as easily have been made by Ronaldo himself.

When the European Championships started, Damsgaard was 20 years old, but he celebrated his 21st birthday the same day that Denmark beat the Czech Republic in the quarterfinals.


2. Federico Chiesa, Italy - 23 years
As number two on the list, we place Italy's and Fiorentina's (on loan to Juventus last season). We did rather not have players older than 21 in this list but felt that Chiesa had to be here, and he is still a young player after all. Chiesa certainly was not an unknown player before the European Championships, but after the European Championships, everyone knows who he is.

He started the European Championships on the bench but after a couple of matches he was more and more certain to be in the starting line-up. Just like Damsgaard, Chiesa only got better and better through the tournament and in the last matches he was the one who shone the most on the pitch. With his fighting spirit, speed, and frenzy playing style, he was the key for Italy reaching the final.


1. Pedri, Spain - 18 years
Our obvious number one on this list is Spain's and Barcelona's young shooting star Pedri. Despite being only 18 years old, he has been more or less regular in Barcelona's line-up throughout the 2020/2021 season, so he already was someone before the European Championships.

Spain went all the way to the semi-finals where they were kicked out on penalties against Italy, and even though Spain had big problems with the goal scoring in most matches, you cannot blame Pedri for that. Spain created loads of chances but missed an incredible amount of goal changes, and many of the goal chances were created thanks to Pedri.

In almost every match, Pedri was the one who controlled Spain's offensive play and showed an incredible understanding of the game, passing play and creative ability.

Pedri is certainly the future for both Spain and Barcelona. He is compared to the icon Andrés Iniesta by many, and although the comparison is by no means wrong, it feels like Pedri even has another level to perform compared to Iniesta (if that is now possible).


...and the players that didn't quite make the list
Of course, there were additional candidates for this list and here are some of the ones we believe will be prominent football players in the future.


Jérémy Doku, Belgium - 19 years
Belgium's Jérémy Doku played only two matches but showed great offensive qualities during those matches. The winger who plays club football in Rennes can become a really important play in a future Belgium, that is in need of additional talent as their "golden generation" is aging. He could very well be a very important player for Belgium already in the World Cup in Qatar next year.


Ferran Torres, Spain - 21 years
Spain's Ferran Torres has not really been having a regular place in starting line-up in his club team Manchester City, but at national team level he delivers. He "only" scored two goals in the European Championships but has scored 8 goals in total in 17 international matches and if he can continue to deliver goals at the same pace, he will be very important for Spain's national team in the future - a Spain who needs a reliable goal scorer.


Kai Havertz, Germany - 22 years
No, Germany did not have a successful European Championship and honestly only played good in one match during the European Championship, in the group game against Portugal. However, Germany's best player was without a doubt Kai Havertz who had a club season in Chelsea where he only got better and better. In the European Championships, he proved that he will be Germany's most important player in the future.


Patrik Schick, Czech Republic - 25 years
Yes, Patrik Schick may be too old for this list, but he scored like a superstar throughout the tournament. 5 goals in total and split top scorer title is very impressive and he enters this article thanks to that he was a fairly unknown name before the tournament, and it will be really interesting to see if he can continue in the same way in Bayer Leverkusen next season. He is the only player here though that we are not sure he will be a future star, possibly he only had a tournament where the stars where aligned in his favour...