The French elegant player Thierry Henry
Thierry Daniel Henry was born in Les Ulis in 1977 to parents who encouraged him to play sports and invest his energy in athletics. His father took him to soccer practice as soon as it was evident that he was a more talented ballplayer than other kids.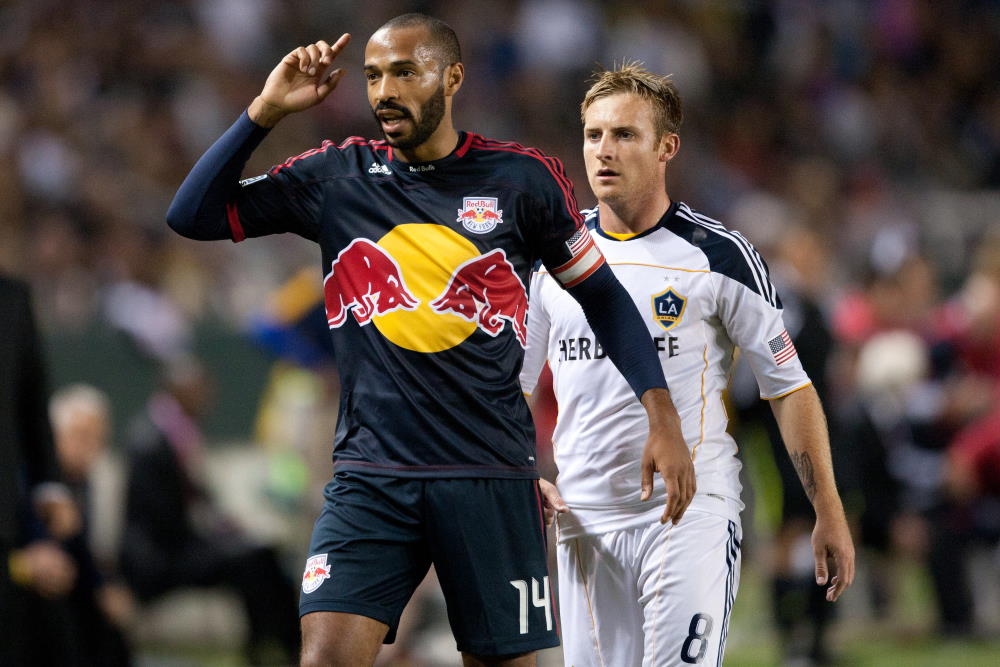 Thierry Henry, here playing for New York Red Bulls

He joined the Les Ulis and Palaiseau junior team while aged, 13 although he was already a member of the Viry-Chatillon Under-15 team. At 14, he was sent to the Alexander Fleming School in Orsay, where he specialized in soccer. The same year, he was picked to join the French Football Federation's Clairefontaine Academy.


Professional Career
Henry signed with Monaco under Arsène Wenger while he was still at Clairefontaine Academy. His professional debut was in 1994 in a 0-2 loss to Nice. At Monaco, his star kept shining; in 1996, he was named France's Young Player of the year.

In all, Henry scored 20 goals in 105 matches in his Monaco career. In 1999, Juventus signed him for £10.5 million. However, he did not quite impress in Italy, leaving after just one season to join Arsenal for £11 million.

Although Henry joined Arsenal as a left-winger, Arsène Wenger encouraged him to be a striker. This idea transformed Henry into one of the English Premier League's lethal strikers of all time. He became Arsenal's leading goalscorer.
Henry recorded an awe-inspiring first season with Arsenal. His second season was even better; he led the team to the FA Cup final against Liverpool but fell short of winning.

In the 2001/02 season, he scored 24 league goals to become the league's top scorer and led his team to a double; an English Premier League title and the FA Cup. The following season, he scored 32 goals for Arsenal in all competitions and led the club to another FA Cup victory, bagging the man of the match title in the process.

Henry was the league's top scorer again in the 2003/04 season with 30 goals. During the same season, he helped the Gunners win the league title without a single loss, earning Arsenal the Invincibles title, a feat last achieved by Preston North End in the 1888/89 season.

In 2004, he became the first player in 50 years to earn the FWA Footballer of the Year for two years back-to-back. He guided Arsenal to another FA Cup final (their 10th title) in 2004/05, where they beat Manchester United 5-4 on penalties.

Henry broke Ian Wright's record all-time top scorer record of 185 goals on October 17, 2006. He is the current Arsenal's all-time leading scorer with 228 goals.

Aside from his league exploits, Henry was also instrumental in Arsenal's continental bid. He guided the Londoners to the UEFA Champions League final against Barcelona, losing 1-2.

He joined Barcelona during the 2006/07 season and stayed with them for three seasons, and was part of the squad that won six trophies under Pep Guardiola in 2009.

In 2010, he signed with the New York Red Bulls of the Major League Soccer (MLS) and stayed with them for five seasons. He was loaned back to Arsenal between his MSL duties, where he made seven appearances, scoring two crucial goals.


International Career
He captained the France under-18 in the1996 UEFA European Under-18 Championship, scoring seven goals and assisting his team to the title. His splendid performance secured him a spot in the France team that won the 1998 FIFA World Cup.

Henry was also part of the French team that won the Euro 2000, and again in the country's 2006 World Cup team.


Post Retirement
After his active player days, Henry joined the Sky Sports expert commentary team before venturing into coaching. He has had a stint with the Arsenal youth team, Belgium, Monaco and Montreal Impact. As of today Henry does not have any coaching assignments.

He is also a minority stakeholder in the Italian club Como (currently playing in Serie B).