The end of the season - the season and the top scorers in the Premier League 2022/2023
This weekend, the last round of the 2022/2023 season was played in the world's best and most popular league - the English Premier League. Here we go through what happened in the last round, the positive and negative surprises of the season, and of course we take a closer look at the top scorers as well.


Manchester City Champions Premier League Season 2022/2023
Manchester City worthy winners
Although the end of this season was totally undramatic, at least as far as the top of it was concerned, this season has still offered a lot of excitement and highlights. Arsenal surprised everyone by staying at the top of the table for basically the entire season. Unfortunately for Arsenal, and the excitement of the ending of the league, they couldn't hold it up all the way.

Just behind Arsenal, Manchester City shadowed the whole season, and as the season were closing in to the end, City lined up the victories and were stuck in a hysterical form. For Arsenal it was kind of the opposite, they lost many points by drawing in games they should have won. They also lost the meeting between the two teams in round 33, when City in great style won with 4-1, and kind of decided the league there.

Heading into the final round, City were already champions and could let themselves lose with 0-1 to Brentford, while Arsenal finished by crushing Wolverhampton with 5-0, but of course none of this mattered, City were still champions.


The fight to avoid relegation - Everton winners in the end
At the bottom it was way more dramatic. Everton, Leicester, and Leeds were involved in the fight for one single spot to survive from relegation, so two teams had to go down a tier. Everton were in the driver's seat as they were ahead of the other two, and thus had their fate in their own hands.

Leeds could be counted out early on as they needed a win but quickly fell behind against Tottenham and were never close to turn it to a win (it was a 1-4 loss for Leeds in the end). Instead, Leicester were the team best placed to save the contract as Harvey Barnes made it 1-0 against West Ham in the 34th minute, while Everton had not managed to score against Bournemouth at Goodison Park, and this were the conditions at half-time.

In the 57th minute, Everton finally managed to net against Bournemouth through a goal from Abdoulaye Doucouré. Leicester extended their lead to 2-0 but as Everton managed to fend off an equalizer from Bournemouth, that would have sent them down to the EPL Championship, they managed to ride out the storm. Everton thus remain a EPL team next season, while Leicester and Leeds must start over a level down.


Premier League's best and worst teams 2022/2023
Of course it's the title that counts and Manchester City should get all the credit for their season, especially as they won the league quite comfortably in the end. There are, however, other clubs that, according to their pre-season conditions, have performed even better.


The positive surprises of the season
We have already talked about Arsenal but they have to be mentioned here as well. Before the season, they were considered at best a possible candidate for a Champions League place, but no one really thought they would be at the top of the league for as long as they were. And even though they didn't win, they ultimately finished in second place by a good margin down to third-placed Manchester City.

As we all know by now, Newcastle are a state-owned club as they are owned by Saudi Arabia nowadays. That they are a team to be reckoned with long term is to be expected, but that they would be so good that they would manage to pick up a Champions League spot this season was somewhat unexpected, as they finished fourth in the league. At times they played very attractive and entertaining attacking football and if they continue to make the right signings for the team, which they have managed so far, they will be even stronger next season.

However, perhaps the best performing club, based on their pre-conditions, were Brighton. After they lost their successful coach Graham Potter to Chelsea in the middle of the season, there were many who had doubts about Brighton as the Italian Roberto De Zerbi took over the team. But instead of losing quality, they quickly improved under De Zerbi's management and eventually finished in 6th place, which means participation in the UEFA Europa League next season. If Brighton can avoid to have their teams raided of most of their top players, and keep De Zerbi, they will be interesting to follow next season.


The negative surprises of the season
Undoubtedly the most negative surprise of the season has been Chelsea. Having, with the financial help of new owner Todd Boehly they greatly and expensively strengthened the team in the pre-season summer, including signings of players sucgh as Raheem Sterling, Kalidou Koulibaly, Marc Cucurella and Wesley Fofana, many considered Chelsea a strong candidate to finish top four, and maybe even challenge for the title.

After a poor start to the season, with a loss to Dinamo Zagreb in the Champions League as the the straw that broke the camel's back, Thomas sacked Tuchel and replaced him with Graham Potter. This was considered by all to be a brilliant move as Potter basically struck gold with all the teams he coached, but Potter didn't manage to get the team in order either. Afterweak autumn results, big signings were made again in the winter transfer window, including Mykhailo Mudryk (who was stolen right in front of the nose from Arsenal, probably Mudryk regrets his choice today), World Cup success Enzo Fernández from Benfica and João Félix on loan. But despite all these new star players, the results were rather worse than better.

Potter was fired on April 2 as he never managed to get all the teams stars to perform, and Frank Lampard came in as temporary coach for the rest of the season. Unfortunately for Chelsea, Lampard managed to make the team play even worse and in the end, they finished in 12th place in the league, which cannot be seen as anything other than a historic fiasco. Ahead of next season, Mauricio Pochettino is already signed as the new coach, and it remains to be seen whether he can bring order to this currently dysfunctional team.

In addition to Chelsea, Liverpool also had a rather poor season. They climbed up considerably at the end of the season and ended up in fifth place in the league, but they did miss out to qualify for Champions League, which can only be seen as a fiasco. Tottenham also underperformed greatly and finished eighth, and thus they do not even get to play in the UEFA Conference League next season. Both teams were strong top 4 contenders, so both their seasons must be seen as weak.

At the bottom of league, it is above all Leicester and Everton that have been the big disappointments. Both teams have players good enough for the top half, but Everton barely managed to avoid relegation, and for Leicester, who did get relegated, the result is a disaster. Leicester has loads of players who are far too good to be playing in EFL Championship. If they can keep the squad, and the players are motivated to repair this fiasco season, they should bounce back to EPL already next season.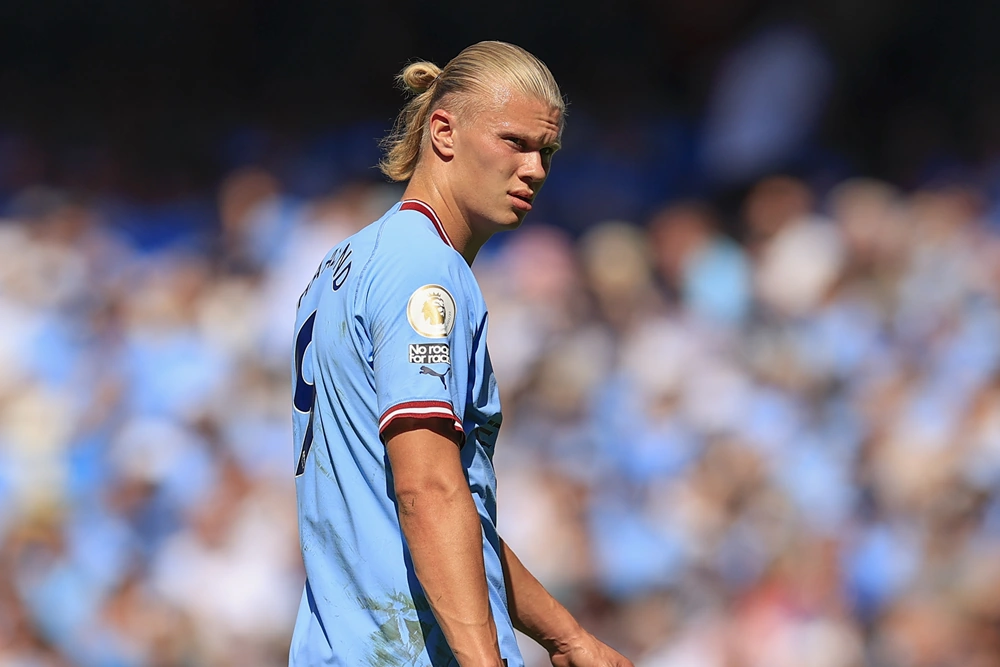 Erling Braut Haaland - Golden Boot winner of Premier League 2022/2023
Top scorers - title winner Erling Braut Haaland!
Although Erling Braut Haaland has proven himself in both the Bundesliga and the Champions League before, and no one doubted his capabilities, few thought he would score as many goals as he did in the Premier League this season. In the end it stopped at 36 scored goals, but it could have been more if he hadn't been benched a lot in the last few games after City had already secured the title.

With his 36 goals, he set a record for the number of goals scored in one season, a record previously held by Alan Shearer and Andy Cole with 34 goals in one season. He had scored two hat-tricks already in August, and finally scored four hat-tricks in total. Overall, he scored roughly 38% of the team's Premier League goals, and it has to be remembered that this was Haaland's first season in the EPL!

Behind Haaland we find Harry Kane, who scored 30 goals, a whopping 42.9% of all of Tottenham's goals. With this number of goals, he would normally have won the Golden Boot in the Premier League, and if you also add that Tottenham had a downright bad season, Kane's goal record is pretty great. Kane has a year left on his contract and it remains to be seen if he stays at Tottenham, or if playing in the Champions League and the possibility of winning titles attracts more. Rumour has it that Manchester United is a possible next destination.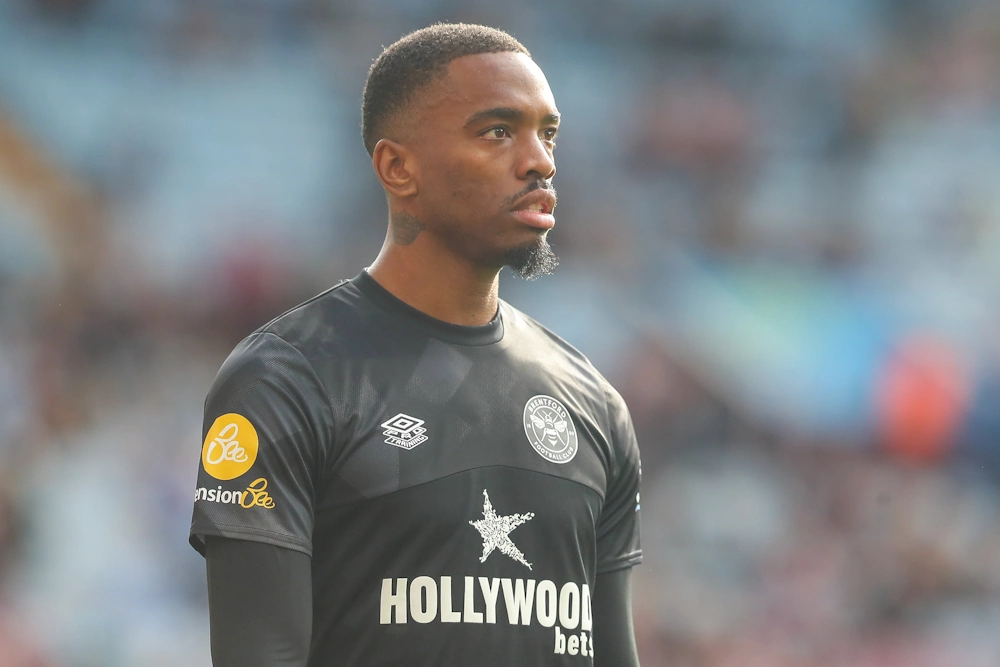 Ivan Toney - third in the top scorer list and now suspended for 8 months

Third in the top scorer list we find Brentford's Ivan Toney with 20 goals scored, 34.5% of the team's total goals, and was thus a strong reason why Brentford finished in a very honourable 9th place in the league. Unfortunately for Toney, Brentford and for the English national team, he has now been suspended for eight months due to betting on EPL football, including matches he himself participated in, which is of course not allowed.

Other notable scoring performances this season is Arsenal's youngsters Gabriel Martinelli and Bukayo Saka, both only 21 years old. They both had very successful seasons as they scored 15 and 14 goals respectively. Fulham's Serb Aleksandar Mitrovic is also worth a mention as he scored 14 goals, despite missing large parts of the spring season. Without his injury, he very likely could have had scored around 20 goals this season.