Darwin Nuñez transfer rumors
Now that the transfer window has begun, we are also getting the rumors of players that may go to one team, who might go on loan, who renews his contract or who leaves as a free agent and there's a special attention that is paid to the statements of any football player when it comes to their futures.

Within this maelstrom of comings and goings that the transfer market brings us, there is a name that has been rumored for a lot of important teams long before the transfer window began: Darwin Núñez.

Any football fan, even a casual one, has heard the rumors of the possible transfer of the Uruguayan Benfica striker to a Premier League club, Real Madrid, Bayern Munich or Paris Saint-Germain. Despite these rumors, perhaps not everyone knows who Darwin Núñez is and that is why we will now talk a bit about him, his beginnings and how he has become one of the hottest properties of the transfer window in 2022.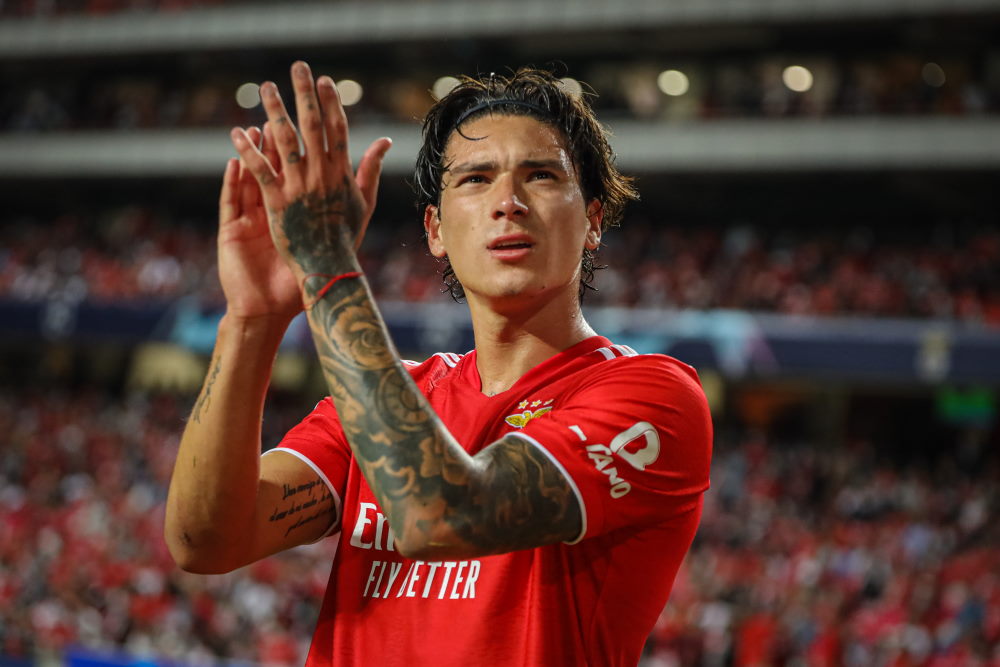 First steps
Núñez was born on June 24, 1999, in Artigas, a small town in the north of Uruguay close the the border with Brazil, where the future football player would grow up in an environment of few resources with his father, mother and brother, with whom Darwin had a very close relationship with. Núñez himself recently recounted in an interview that, after leaving school, he and his classmates played football barefoot on rocky ground where it was to some extent normal for someone to lose part of a toe in the process-that's the type of environment he grew up in.

His father was a construction worker and his mother made money selling things in the street and their income was not high, so at times the food on the table was not enough for the whole family. However, Darwin has recognized that every time that situation arose, his mother took the food that was on her plate to give it to him and his brother. For this reason, Núñez would promise his mother to buy her a house if he one day managed to become a professional football player, a promise that he fulfilled once he completed his transfer to Spain's UD Almería.

After learning to play football in the street, at the age of 6 he would enter the La Luz club academy, close to Artigas, where he would quickly stand out from the rest of his team and arrive at San Miguel de Artigas, from where he would be able to go outside the region, being captured at age 14 by one of the two most important clubs in the country and the entirety of the American continent as a whole, Club Atlético Peñarol.


Peñarol
Despite his conditions and talent, Darwin had difficulties adapting to life in Montevideo, very far away from his family, since it was the first time he had left Artigas and that affected his performances on the pitch, so after conversations with Peñarol and his parents, the decision was made that he would return to San Miguel de Artigas for a year. That year allowed him to prepare himself mentally for what awaited him in Montevideo, having had that brief experience with Peñarol.

A year later he would return to Peñarol, much more prepared for the challenges that awaited him and a stronger mentality that allowed him to show his ability, which was enough to get his first professional contract with "El Carbonero" in less than two years. However, a short time later he would have a very serious injury, an ACL, which led to surgery that kept him unable to play football for almost a year and a half.

He would return to the pitches, would manage to train with the first team and would even make his debut in the First Division, replacing Maxi Rodríguez, in a match against Club Atlético River Plate in Montevideo, where unfortunately he would again feel discomfort in the knee that took him away back to the operating room, this time to operate on the patella. It would take almost a year for him to play with Peñarol again and score his first goal in the First Division, against Centro Atlético Fénix, on October 13, 2018.

At the beginning of 2019, he would be called up for the first time with the Uruguayan U-20 national team to participate in the South American tournament of the category that would be played in Chile, and then be part of the U-20 World Championship that was played in the middle of the year in Poland, where "La Celeste" would be eliminated in the round of 16. A couple of months later, he would also be part of the Uruguayan U-22 team that participated in the Pan American Games in Peru.


Europe
In just less than a month, the offer from UD Almería (around 5.5 million euros including variables and add-ons) would arrive to Peñarol, to take Núñez to play in the Second Division of Spain and allow him to fulfill the promise he had made to his mother and finally be able to buy her a house in Artigas. A few weeks later he would debut with the Uruguayan senior national team.

His time in Spain was short (he barely stayed a season) due to his good performances since he scored 16 goals in 30 league games and was fourth among the scorers in the competition leading Almería to the play-offs for promotion to La Liga.

Although there was interest from several clubs, it was Portuguese giants SL Benfica who managed to sign Núñez for 24 million euros, becoming the most expensive signing in the history of the Lisbon club. His first season was somewhat inconspicuous in scoring terms with "just" 14 goals in 44 games, although he had an outstanding performance in the UEFA Europa League where he scored 5 goals in 8 games, which made his name sound in Europe despite the fact that Benfica only reached the round of 32 of the tournament.

In his second season in Portugal (2021-22), Núñez left signs of his true potential by scoring 26 goals in 28 Primeira Liga matches and 6 goals in 10 UEFA Champions League matches. His performances against Liverpool being especially remembered where he scored in both legs of the tie and despite the fact that his team was eliminated in the quarter-finals, his introduction to the world was very outstanding and that is why his career is now aiming towards Anfield Road.

Darwin Núñez's career is just beginning, especially considering his age, but the ease with which he has assimilated and faced the challenges he has encountered in his professional career lends itself to thinking that we are in the presence of one of the top strikers of the near future in the European scene.