A Career Retrospective - Adriano, El Emperador (The Emperor)
Football is a game of moments. Moments that turn out great for some and sour for others. Those moments of brilliance are what makes this sport so exciting, and it's players, so loved.

Many great players have graced the world of football with their passion for glory and the skill to achieve it, but there still remain many players who could not fulfill their potential to achieve greatness.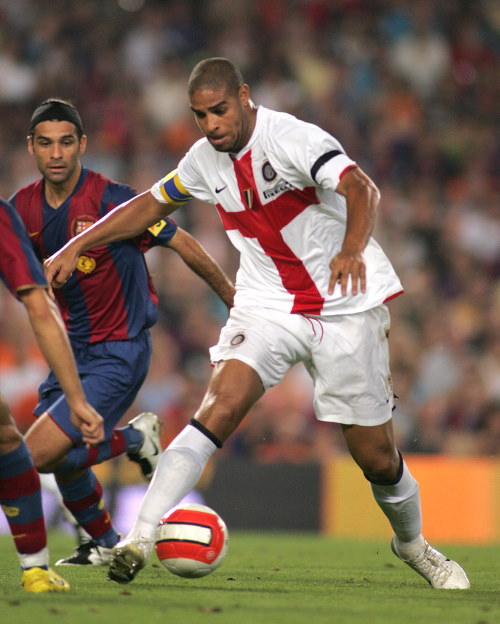 Adriano 'The Emperor' is one of them. He had the spark of brilliance and created many memorable moments in world football.

However, life had other plans for this young footballer who could have had the world under his feet, which he did, but only briefly.

An unstoppable force that was about to peak, Adriano left us wondering - what could have been if the Emperor lived up to his potential and took his rightful place as the heir of Ronaldo?


Flamengo To Internazionale - Replacement Deal of Fortune
After successfully winning the 1999 U17 World Cup with Brazil, Adriano enjoyed a successful start of the career in Flamengo and was quickly promoted to the first team just after the first season.

Adriano's strong stature, exquisite ball control, great aerial ability, and a hammer for a left-foot presented himself as a powerhouse and a dominating character on the field.

A promising player who had everything in his artillery since the beginning and had the capability of replicating the quality of the great Brazilians like Ronaldo and Ronaldinho, all he needed was an opportunity.

In the summer of August 2001, Inter Milan were done with the South American wonderkid they had bought a season earlier named Vampeta, who was sent back to Flamengo.

As Vampeta was co-owned by both PSG and Inter Milan, the Brazilian club offered a player each in return with PSG getting Reinaldo and Inter Milan being graced with Adriano Leite Rebeiro.


Adriano Announces Makes His Arrival in Style
After his acquisition by Inter-Milan, Adriano,19 at the time, was soon featured in a friendly match.

A thunderous left foot free kick strike on his first day on the field in the Nerazzurri colors brought the world to a halt for this moment of brilliance.

Although it was a friendly match, the brilliant free kick was scored on the world's best keeper at the time, Iker Casillas, and against the biggest European club, Real Madrid.

Everyone was quick to look up on this exciting young player and were even quicker to draw similarities he had with "El Phenomenon" Ronaldo Nazario.

His magical and powerful performances in the future left no doubt that he truly was capable to be his successor and would dominate the coming era.


Rise of Adriano
The Nerazzurri had bought him for the future and even though he showcased an excellent desire and skill, he was transferred to Fiorentina to rack up the top flight league's first team experience.

The Emperor mesmerised the Serie A with his amazing dribbling and lethal finishing as he adjusted to his new team in no time.

After this successful campaign, everyone thought it was time for Adriano to shine for Inter Milan, having been recalled from the loan, but everyone was surprised to see another loan deal, this time to Parma due to a co-ownership deal.

Striking a sensational partnership with the renowned Adrian Mutu, this is where Adriano turned everyone's attention to his talent and showmanship by bagging 22 goals in 36 appearances.

Finally, after proving himself in Serie-A, no one could stop Adriano from becoming the next big star for Inter Milan and the world, except for fate.


Copa America 2004: Beginning of his Painful Downfall
Adriano was full of confidence when he was selected for the Brazilian squad of the 2004 Copa America.

The most influential player for Brazil in this tournament showcased great resilience and scoring ability by winning the Copa America and becoming the top scorer of the tournament with 7 goals.

Everyone was now convinced that nothing could stop Adriano from reaching his potential and claiming his place in the GOAT conversation.

Little did they know that the cracks had appeared even before the Copa America.

A phone call of his father's illness before the final had shaken him up, yet as the warrior he was, he fought hard against his exhausted emotional state and did what he is known for, to produce moments of magic.

The equalising goal for Brazil right near the end of the game was another example of him producing memorable moments. His team went on to win the tournament after a penalty shootout.

Upon his return to Inter Milan, he Initially performed well and helped his club secure another Serie-A title. He had his best year for the Nerazzurri in the 2004/05 season, scoring 28 goals across all competitions.

However, it started to go downhill from there.


Difficult Years
Adriano's father was the most important person in his life. He kept Adriano on track for so many years, therefore his absence caused a black hole in his life.

He was so grieved after losing him, that things only kept going from bad to worse in his personal life with alcohol and depression playing their roles.

Although he scored 19 goals next season, his personal habits and newfound addictions were affecting him in what could've been the prime years of his career.

Inter Milan was as supportive as they could be but being a professional club they had to make a decision. The club, following Dunga (Brazil's Coach) footsteps, annexed the Emperor from the team and sent him to Sao Paulo with a buy-back clause if he could regain his reform.

Ever since then, Adriano hopped clubs around the world, but could not leave his demons behind. He lost the motivation he once had and had fallen out of love of the game.

Adriano's peak was magical. He had the pace, creativity, and grit to create opportunities out of nowhere. Although his success was short-lived, the world knows and believes that he could have been the next big star. But for a lot of fans who got to witness his greatness, he remains the Emperor to this day.