The Curse of Béla Guttmann
Football, due to its global reach that reaches the most unexpected places on the planet, has acquired a relationship with more spiritual themes that can be seen in almost any game when, for example, we see that the players make some kind of gesture or series of actions every time they enter the pitch or use some type of object in particular for good luck. If we pay attention to those types of details, we will find many that are directly related to the beliefs that the players or coaches possess.

In this particular case we are going to talk about a curse that is haunting SL Benfica that was launched by Béla Guttmann more than half a century ago and that is still haunting the Lisbon club. Logically, the belief that the curse exists and is not about the natural evolution of football or a psychological aspect is something personal that each individual decides to believe or not.

However, in this article we are going to talk about the origin of this curse and what has happened over the years so that there is more and more belief in the existence of something out of the ordinary that has affected the Portuguese institution.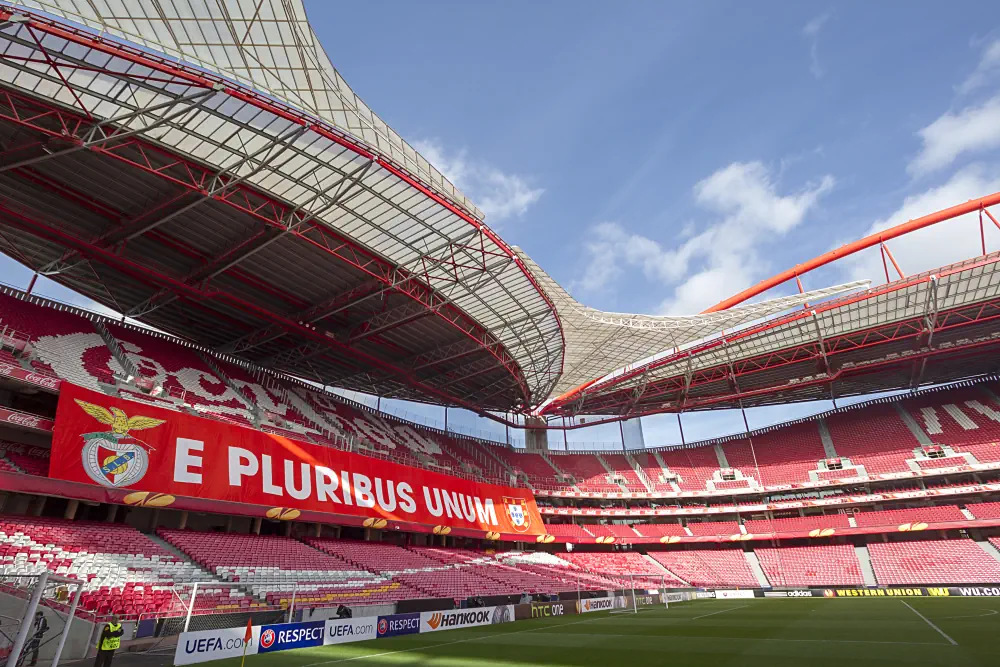 Benfica stadium
Who was Béla Guttmann?
Béla Guttmann was born in 1899 into a Jewish family in Budapest, a city that was part of the former Austria-Hungary nation. Being the son of two dance teachers, the young Guttmann also prepared himself to train dancers in addition to studying psychology. He began his football career in his hometown, but the anti-Semitism of the time in Hungary forced him to flee to Vienna where he would continue his career at Hakoah Wien.

In the Vienna club he would have the opportunity to play in the United States thanks to a tour of the North American country where Guttmann would leave a good impression and would be signed by the Brooklyn Wanderers, in part to flee from the persecution of the communist movements of which he was victim. He would spend much of the rest of his career as a football player in different clubs in the United States to finish it in a brief period in Hakoah Wien.

As soon as he retired as a player, he began his coaching career at the same club in Vienna, developing in his early years between Austria, Hungary, the Netherlands and Romania. In that period he continued to be persecuted by anti-Semites for whom he would be trapped and tortured in Nazi camps that included Auschwitz. Guttmann managed to escape and despite all the difficulties, he continued his career as a coach with which he was gaining fame as a promoter of the attacking game.

This led him to coach in Italy, first to Padova and then to Triestina, until he arrived at AC Milan and also managed to pass through Argentina with Quilmes and Cyprus with APOEL. In the Rossoneri club he would have a good couple of seasons but he would have problems with the club leaders and he would be fired. In 1956, he would return to Hungary to coach Honvéd who had some of the best players in the history of the country and some of the best players in the world at that time such as Ferenc Puskas, Sandor Kocsis or Zoltán Czibor.

The dimension of Hungarian football at that time was such that they went on world tours to show their quality and that led Guttmann to make himself known in Brazil where he would train Sao Paulo just a year later. He would later return to Europe to train FC Porto de Portugal where he would win the league in his first year and that would attract the attention of SL Benfica who was the most important team in Portugal at that time.


The origin of the curse
Guttman arrived at the Lisbon club to replace a large part of the club's experienced players with youngsters with whom he won the league in his first year and in his second year he would win the first European Cup that wasn't won by Real Madrid until that point in the competition's history. In 1961, Guttmann would complete the signing of a young man named Eusebio, who would later become a world football legend. As if that wasn't enough, Guttmann and Benfica would win a second European Cup in a row.

Guttmann, at the highest point of his coaching career and of Benfica's history, asked for a raise that was denied by the club's leaders, which provoked the anger of the Hungarian who left Benfica after being communicated that he was expendable for the institution and, supposedly, declared that the Lisbon club would not win another European competition in the next 100 years. Around that assertion there have been many comments since there is no document or evidence that Guttmann declared that.

The season following Guttmann's departure, Benfica would repeat their presence in the European Cup final, losing 2-1 to AC Milan. History would repeat itself two years later, this time against Milan's other team, Inter, then in 1968 against Matt Busby's Manchester United and in 1988 against PSV Eindhoven on penalties. It is said that, in 1990, prior to the European Cup final between Benfica and AC Milan, Eusebio even approached the tomb of Guttmann (who died in 1981) to ask him to lift the curse on something that he did not there is evidence and it didn't work either since Benfica would fall again against the Rossoneri club.

Something that causes curiosity regarding this fact is that Benfica participated in three finals of the UEFA Europa League (previously the UEFA Cup) and was defeated on all three occasions, although in the 2021-22 season, the Lisbon club lifted the trophy of the UEFA Youth League by beating Red Bull Salzburg 6-0 in the final.

Beyond the existence or not of a curse or whether or not Guttmann said those words, it is striking that a club as important as Benfica has not been able to achieve a European title for so long.