Ronaldo and his colossal season at Barcelona
There are seasons of players that are going to be remembered. There is something very special in the fact that there is a season that can capture a player at his absolute best and will always be remembered by football fans that hold that player or that season dear. The protagonist of today's article, the legendary footballer player Ronaldo, has many seasons like that in his career.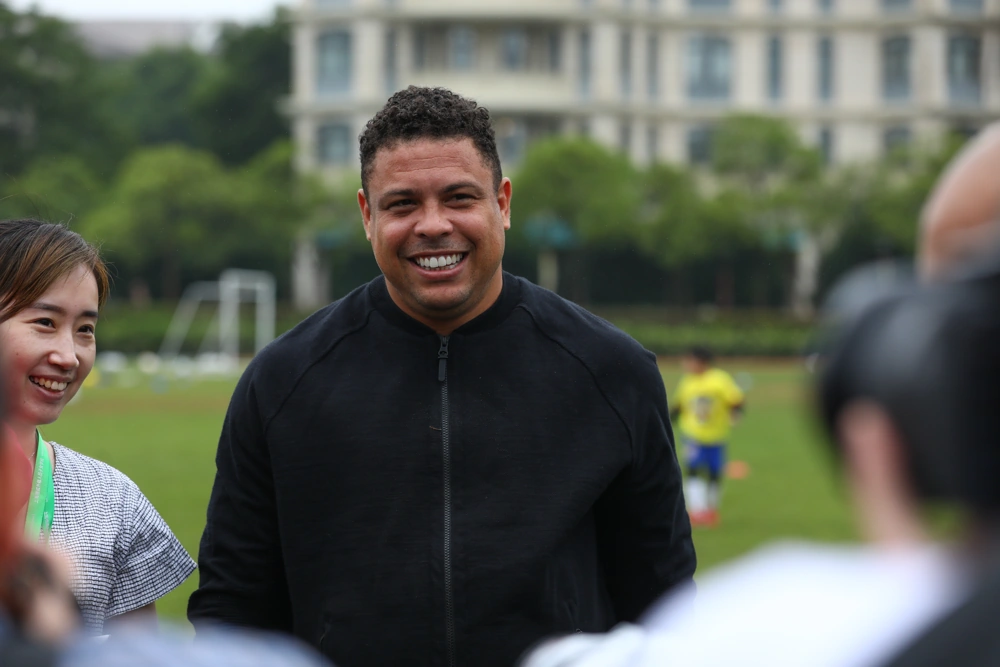 The Brazilian is a bona fide superstar of the game: he was one of the first to really reach that level of stardom in football and rightfully so as he has been one of the best to ever to play the sport. His combination of power, skill, pace and charisma as a striker pushed the game to a whole new level, and his influence in every single team he played for can't be argued.

But there is one season of Ronaldo's career that is an even greater stuff of legends: that 1996/97 season with FC Barcelona.


Up to the season of 1996/97
Back in the summer of 1996, Ronaldo just had two incredible seasons with PSV Eindhoven, scoring a grand total of 54 goals in 58 games. The Brazilian had won the World Cup with Brazil in the United States in 1994 at just 17 years old when he was still a Cruzeiro player in his native country, but he didn't play a single minute in the competition and wasn't able to prove himself at that level.

However, after two seasons at PSV where he conquered Dutch football with a lot of ease, it was time for a change and to play in a more competitive league. In that league, there was a lot of interest from Italian side Inter Milan, but it would be Spanish giants FC Barcelona, who would end up paying a then-world record fee of $19.5 million, the ones to get his signing.

It was a transition period for Barcelona as legendary manager Johan Cruyff had just left the club, but new manager, Englishman Sir Bobby Robson, was more than proven in many different countries, and developed a very strong relationship with Ronaldo. And at just 20 years old, there was a lot of logic in thinking that a world record fee would put a lot of unnecessary pressure on the shoulders of the Brazilian youngster.

But Ronaldo wasn't any regular youngster.


Amazing scoring record
Ronaldo, aptly nicknamed "The phenomenon", would end up dominating La Liga and Spanish football as a whole during that season with Barcelona. His numbers alone say a lot about his impact on the team: an amazing output of 47 goals in 49 games across all competitions. To have that kind of production at that age, and in a very competitive league was clear evidence of how talented and gifted Ronaldo really was.


Plus, there was also the fact of how Ronaldo dominated in Spain. His power, pace and technique was so over the top that rivals, teammates and coaching staff have talked about he seemed like a mythical figure, and there was an air of fear whenever his name was mentioned. Some of the goals he pulled at Barcelona, such as the one against Compostela or the one at the Camp Nou against Valencia where he simply went through two defenders like it was nothing, are stuff that seems to come out of videogames.

It is also worth pointing out that the mid-90s are now regarded as Ronaldo's prime, and the Barcelona supporters were the luckiest ones as they enjoyed him at his absolute best. This was long before the horrible knee injuries, the weight issues, and the effects of time taking a huge toll on one of the greatest talents that sports in general have enjoyed. And that is perhaps why this season of Ronaldo's is so revered, even beyond his ridiculous output: the fact that it captures him at his prime and showing the absolute best of what he is capable of.


Three trophies won during the season
In terms of results, Barcelona would end up a few points short of winning La Liga against eventual champions Real Madrid, but they did win three trophies that season: a Supercopa de España, a Copa del Rey and an UEFA Cup Winners' Cup. Considering some of the instability that the club had at the time and the increasing pressure that Robson had in his first couple of months in the job due to poor results, it was a very decent final outcome for all parties involved.

Now that new manager Louis van Gaal, widely regarded as the hottest commodity after his recent success with Ajax, was set to join the Catalonian side, it seemed that with such a talented manager, a solid squad and Ronaldo firing on all cylinders, only good things could come out for Barcelona now... but it didn't go down that way.


No renewed contract despite his golden season
Due to his exploits in the 1996/97 season, Ronaldo and the Barcelona board agreed that he deserved a better contract and started to work to renew it. But according to the Brazilian, a month after agreeing a new deal, the board decided that it was a ridiculous contract and this bothered Ronaldo, resulting in him leaving Spain to join Italian side Inter Milan for another record fee.

It is hard to tell what would have happened if Ronaldo had stayed at Barcelona. Perhaps he would have done just as well or even better with van Gaal. Perhaps the constant transition and instability at Barcelona would have affected his game. Perhaps he would have never gotten those knee injuries. Perhaps those injuries were inevitable. Hard to say.

The only sure fact about this is that Ronaldo's time at Barcelona is celebrated for not only the Camp Nou faithful, but also by every single football fan in the entire planet as it was "el Fenomeno" at his absolute best, constantly showing and proving to the world that we were enjoying the works of a talent that only comes once every couple of decades.

There are very few individual seasons that are as special as that 1996/97 season at Barcelona.