Remembering Rafael Márquez, the Kaiser of Michoacán
Legendary Manchester United midfielder Roy Keane, once working for Sky Sports as a pundit a few years ago, mentioned that the key for greatness is consistency and there is a lot of truth to that. If a player is not consistent, he or she is never going to accomplish their full potential and have a lasting impact at a football club.

The element of consistency can be very hard to attain, but is the difference between the best of the best and just good players. However, consistency can often make you underrated because people simply take you for granted. There is a very good example of this with Mexican defender Rafael Márquez.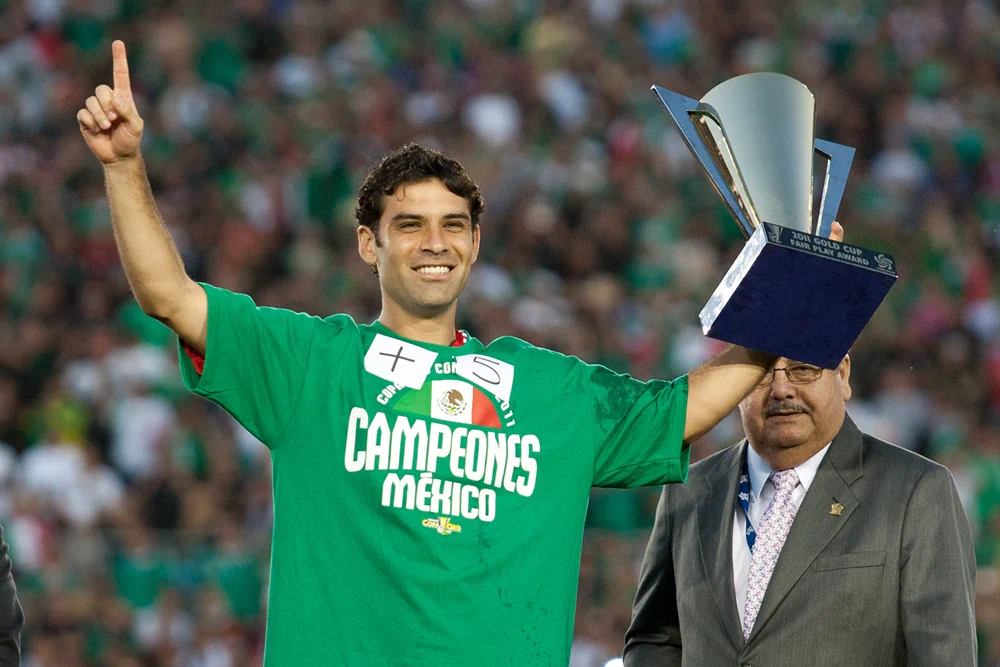 Rafael Márquez after winning the CONCACAF Gold Cup 2011

While he is heralded as an absolute legend in his homeland, Márquez is often forgotten when discussing defenders of the mid-2000s. And despite winning two Champions League medals and a treble with Barcelona, he still doesn't get a lot of plaudits. Well, today we are going to talk about the elegant Mexican center-back, his career and a lot more. Let's begin.


Early years and Monaco
Born in Zamora, Michoacán, Mexico (hence his nickname of "The Kaiser of Michoacán") in February of 1979, Rafael Márquez, commonly shorted to Rafa Márquez, began his career in football in arguably the best football academy of his country, that of Atlas. He made a name for himself at just 17 years old in 1996 as he made his debut due to how technical and intelligent he was despite his young age.

Márquez had a few great years at Atlas, even losing a final to Toluca for the league title in 1999, but that very summer, after a good Copa America with the Mexico national team, he signed for Ligue 1 club AS Monaco. This was his first chance in Europe and did quite well, winning the league in his first season in 2000, after having played 30 games across all competition that season. He also won the Ligue 1 Defender of the Year award in 2001.

He would cement himself as one of the most promising center-backs in Europe and went on to become more important in Monaco, which helped him position as the national team's captain by the time they went to the 2002 World Cup.


The peak at Barcelona
New president Joan Laporta, recently elected in the summer of 2003, knew that Barcelona needed a massive revamp to compete with Real Madrid and the best in Europe, so he made a lot of signings that year to improve the squad for new manager Frank Rijkaard. And while Ronaldinho obviously got most of the media attention due to his profile and how immense he was for Barcelona, Rafa Márquez's signing cannot be forgiven.

In the seven years he spent at Barcelona, Márquez was a very consistent performer, not only in defense, but also occasionally in midfield, adding an element of technique and silk to their way of defending that actually worked. He wasn't just a great defender, but also a very good passer and someone capable of scoring some very good free kicks, which were very helpful, particularly during Rijkaard's time at the club.

He was in his early thirties by the time Guardiola was manager of the club, but he still managed to contribute for the treble they won in the 2008/09 season and had a minor role in the league they won in the 2009/10 season. However, his contributions were never unappreciated and the Barcelona faithful hold him in high regard, even to this very day.

Márquez would leave in the summer of 2010 for Major League Soccer team New York Red Bulls, having won 12 trophies in seven seasons in Barcelona while being a regular part of the starting eleven. That, for a Mexican player, is something that already puts him in the discussion for the best footballer that his country has ever produced.


After Barcelona
For a lot of players in Rafa's shoes, leaving Barcelona in your early thirties and joining a MLS side could be seen as being ready to retire, but there were still things to highlight during these years. A huge example of this would be the fact that he was only the fourth ever player to have been a part of five World Cup editions, going from 2002 to 2018, highlighting how important he was to his country.

After two decent years at New York Red Bulls, he came back to Mexico in 2012 to play with Leon, helping them win the 2013 Apertura and the 2014 Clausura, thus showing he still had it. Plus, when it seemed that he was ready to settle in Mexico, he signed for Serie A club Hellas Verona for the 2014/15 season, playing 39 games across one season and a half, proving that he could still perform at a decent level in Europe.

His final team would be a return to Atlas, playing there from 2016 to his retirement in 2018. He capped that with a performance in the 2018 World Cup in Russia at 39 years old.


Conclusion
Rafael Márquez was a very interesting case in the world football as he doesn't get a lot of recognition for the many different things he accomplished. He was a very important player in FC Barcelona during two very successful periods, he adapted to three different leagues in Europe and did well in them, and also had the achievement of playing five World Cup editions while still being useful to his national team, which is saying a lot.

The most incredible part is that Márquez did this with class, elegance and without much fanfare, which highlights how much of a professional he was, something that is always much appreciated. And that is why the Kaiser of Michoacán should always be remembered.