Hugo Sánchez, the ultimate Mexican goalscorer
Mexican football is a very interesting case when it comes to analyzing football nations. While they have a very long, varied tradition and history in the sport, very rarely have they ever had players at the top level. Perhaps the first and best example of the exception to that rule is today's protagonist, Hugo Sánchez.

Even though he is widely revered as the best Mexican footballer that has played the game in his country, his legacy across the world is not as known or discussed when compared to other strikers from his generation. Having said all that, you cannot argue with the achievements and success that Sanchez enjoyed throughout his career.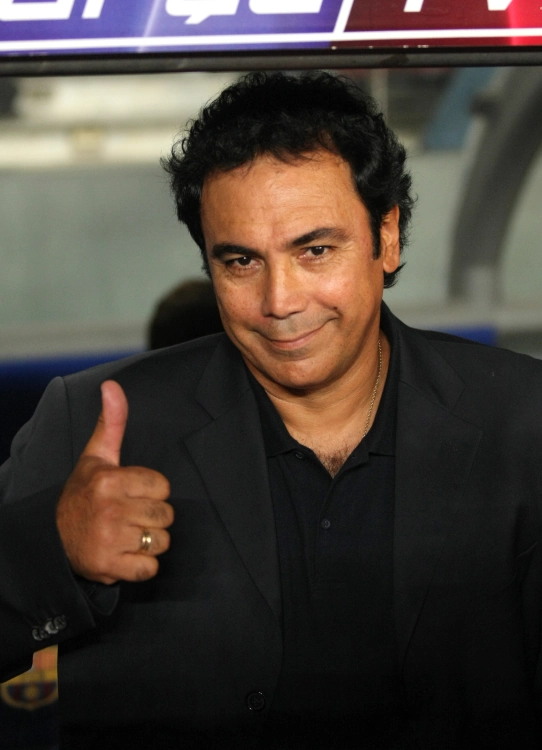 Hugo Sánchez - showing what his right thumb looks like
Hugo Sánchez early years
He started out in UNAM, one of the most important football clubs in Mexico, during the mid-70s and quickly made a name for himself in his country due to his goalscoring heroics, pretty much averaging a goal every two matches. He helped the club win their first ever league championship and also managed to get a degree in Dentistry while he was studying at the club's university.

As an interesting fact, Sanchez was loaned to the San Diego Sockers in the United States in the 1979/80 as he was playing with them during the winter, and with UNAM during the rest of the year. It was an odd deal, for sure, but he still scored a grand total of 26 goals in 32 games, which helped him grow as a player and prove his worth in another country.

All of this served for him to get his big move to Europe: he signed for Atlético Madrid in 1981. The Spanish league was a big leap in quality, and the Mexican struggled at first, scoring only eight goals in his first season with Atletico, but as time went on, he got better and better, ending up winning the Pichichi award, which is handed to the league's top scorer every season, during the 1984/85 season where he scored 26 league goals.


One of the best strikers in Spanish football at the time
By the time of the mid-80s, Hugo Sanchez was widely regarded as the best striker in Spanish football, although he had only won a Copa del Rey with Atlético Madrid, so there was a natural assumption that a striker of his caliber was going to need a move to a stronger team. What nobody was expecting was for him to sign for the club's city rivals, Real Madrid.

While the move was extremely controversial and it obviously severed his relationship with Atletico and their supporters, nobody can question the fact that moving to Real Madrid moved Sanchez's career forward. He scored a total of 208 goals in 283 games in seven years for Los Blancos and cemented himself in the upper echelons of European football in the process.

The Mexican won a lot of La Liga titles, a Copa del Rey and an UEFA Cup, but he is mainly remembered for his achievement of being "El Pentapichichi": he was La Liga's top scorer for five seasons in a row, which is an achievement that not even the likes of Lionel Messi and Cristiano Ronaldo managed to achieve in Spain during their prime. It is a great feat and his goalscoring virtues are there for everybody to see.


His importance for the Mexico national team
He also a very positive output with Mexico's national team. Almost averaging a goal every two games, Sanchez also led Mexico to the quarterfinals in the World Cup they held in 1986, which is the last time that the Mexicans have managed to go that far in the competition, as of this writing. While there is an argument that he never had fully lived up to his Real Madrid version with Mexico, it is also worth pointing out that his performances with his national team were not poor at all.

Eventually, age started to caught up with Hugo Sanchez, and eventually left Real Madrid in 1992 to go back to Mexico, particularly with another giant of the country, America. He won an international trophy with them, but this was the period of his career where he started to jump from one club to another, never fully finding stability, which was very normal for a player in that declining stage of his career.


His coaching career after retirement
After his retirement, Hugo Sanchez became a professional football coach and had a lot of ups and downs, with the biggest highlight being that he was the head coach of the Mexico national team in the late 2000s, but he never fully reached the heights he did when he was a player. In fact, there have been a lot of controversies surrounding him due to his abrasive and peculiar personality as he is not the most humble man in the room.

Regardless, no one can deny his quality, the way he managed to build a phenomenal career at a time where it was a rarity for Mexican players to go abroad, and to reach the upper echelons of the sport, playing for one of the most important clubs in the world in Real Madrid and exceling there. Sanchez dominated Spain like very few strikers have done in the league's history.

Plus, there is also the fact that he scored goals for pretty much every single team that he played for, which is a great testament to his dedication, quality and capacity to adapt to a lot of different styles, coaches, and approaches to the game. This is a fact that is often ignored when analyzing his career.

In terms of playing style, he was an old school striker that had a world class level of finishing as he was able of scoring some really spectacular goals. The bicycle kick, one of the most outlandish and aesthetic-looking ways of scoring goals, was one of Hugo Sanchez's signature finishes, which has become synonymous with the player in question.

Overall, we are talking about the ultimate Mexican player, one of the greatest strikers in Real Madrid and La Liga history, and one of the finest examples that you are going to find in the game of football of what an old school striker is. There are very few players like Hugo Sanchez out there, and his career in the game deserves all the credit that he can get.