What can Frenkie De Jong provide to Manchester United?
Frenkie De Jong's departure from FC Barcelona has been one of the sagas of the transfer window, but it seems to be nearing the end. The Catalonian club needs to sell the Dutch midfielder due to their delicate financial situation and the most likely destination for De Jong is English side Manchester United, where he is set to have a reunion with his former Ajax coach, Erik Ten Hag.


Frenkie De Jong - here in Barcelona

Even though there were reports of the player not convinced by the prospects of joining United and he even stated a few weeks ago that he wanted to stay at Barcelona, now he seems set on heading to Old Trafford. But transfer reports and information aside, what can Frenkie De Jong provide to Manchester United? We'll explain you here.


Control and calmness.
The 2021/22 season has been a colossal failure for United and they have a lot of issues, but central midfield is definitely one of those areas where a player of De Jong's ilk is going to have a lot of positive impact.

While the Brazilian Fred and the Scottish Scott McTominay have their virtues and they are quite hard working, they don't the technique or passing ability to dictate the tempo and hold possession in an effective manner, which a lot of times lead to them looking like they are treating the ball as a bomb. Add to that equation that players such as Paul Pogba, who is irresponsible in possession, and Nemanja Matic, a tidy yet ageing central midfielder, are leaving as free agents, so United not only need quality players but also quantity.

Retaining possession and having a lot of value with it is a key trait of the modern game and this is something United have struggled with over the years, so De Jong would instantly provide the kind of quality that they so desperately crave in that area.

The Dutchman has had his issues to fully deliver at Camp Nou, but one thing that can't be debated is his quality with the ball, his exquisite technique and a delightful passing range, which is set to be very important in a United team that is in dire need of that.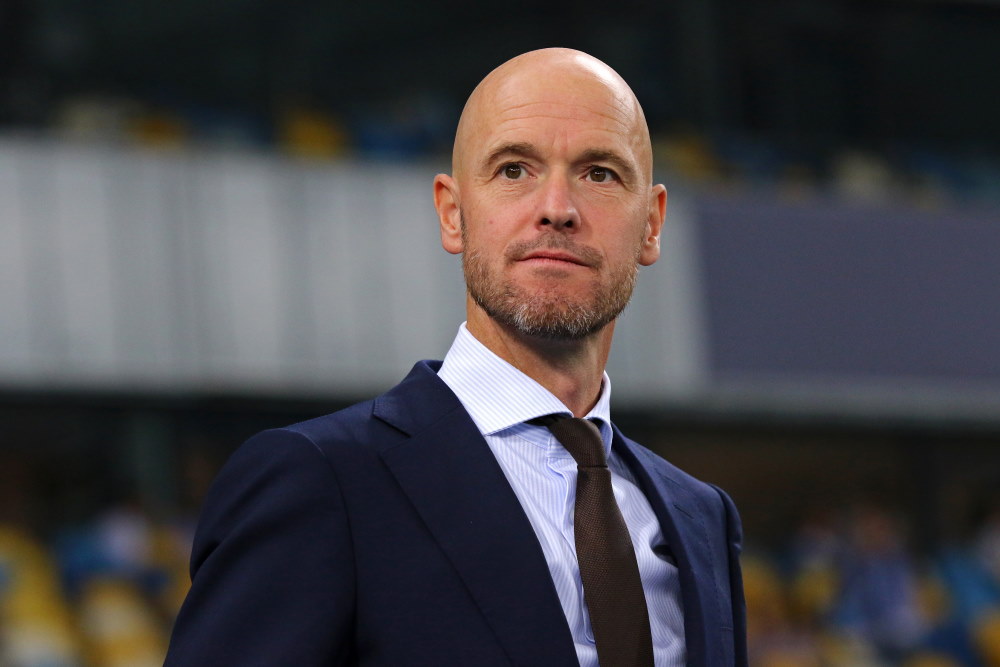 Erik Ten Hag - Mancehster United's new coach
Erik Ten Hag's special boy.
Erik Ten Hag has just arrived to Manchester United and he is going to have a massive challenge ahead of him if he wants to bring this fallen giant back to the top. So it makes perfect sense that he wants to add a player that can perfectly adapt to his playing style and deliver the goods, which is Frenkie De Jong.

The Dutch manager and the young midfielder have had a very special relationship that goes all the way to their Ajax days and how they made it to the UEFA Champions League semifinal in 2019. De Jong has always been highly regarded by Ten Hag and United's efforts to sign him clearly suggest that the former Ajax coach really wants a reunion at Old Trafford.

It makes sense: De Jong not only has previous experience working Ten Hag and understanding his system, but he was also one of those players that made the system better and added a lot of extra quality to an already stacked Ajax side. Having a player of that ilk in Manchester United is only going to make things better.

Managers like Ten Hag need time to implement his ideas, which is something he has confirmed in interviews, so having a key player in his system that is perfectly capable to deliver there from the get-go is huge for any coach.


Something to prove.
It is no secret that, despite all his promise at Ajax and endless potential, Frenkie De Jong has reached his peak at Barcelona. Even though it was his dream move, the Dutch midfielder has only been able to show glimpses of his amazing talents and has struggled to fully adjust to life in the Catalonian club in terms of performances on the pitch.

Along with this, the rise of young Spanish midfielders Gavi and Pedri has led to De Jong always feeling like the odd man out in manager Xavi's tactical setup and never fully adapting to a more complementary role, which has led to Barcelona making Frenkie a sellable asset to deal a bit with their financial situation.

Leaving your dream club is always going to be a tough pill to swallow, but, in a way, it could serve to United and De Jong's favor. The Netherlands international is going to come to Old Trafford eager to prove a point and to show Barcelona what they are missing out-if he has the right mentality, of course.

To a lot of people, De Jong has not lived up to his promise from his Ajax days, but now he has a chance to prove his worth in the most difficult league in the world.


Will he succeed?
It's impossible to predict how a player is going to fare at a new club, but De Jong has all the tools to be a success at Manchester United and to play a big role in their resurrection if things go well. He is going to be the main man in midfield, he is going to play for the manager that has gotten the most out of him and he is going to have the platform to be the player he was always meant to be.

There are always a lot of tribulations, variables and factors that can influence in a player's performance in a new club and Manchester United have proven that over the years with a lot of the footballers they have signed, but there is also a lot to gain for all parties involved with this signing and United fans have a lot of reasons to be excited about this potential transfer.

Frenkie De Jong is all but set to join Manchester United and we cannot wait to see how this one goes!