Tainted winners: 1993's Olympique Marseille
French football is very unique. While their national team has won a lot of trophies in the last thirty years and they have dominated at youth level, producing a ton of talented players, their football clubs have often struggled to make an impact in Europe. Paris Saint Germain's recent record of failures in the Champions League is widely known, but it is telling that only one French club has won the competition and only did it once.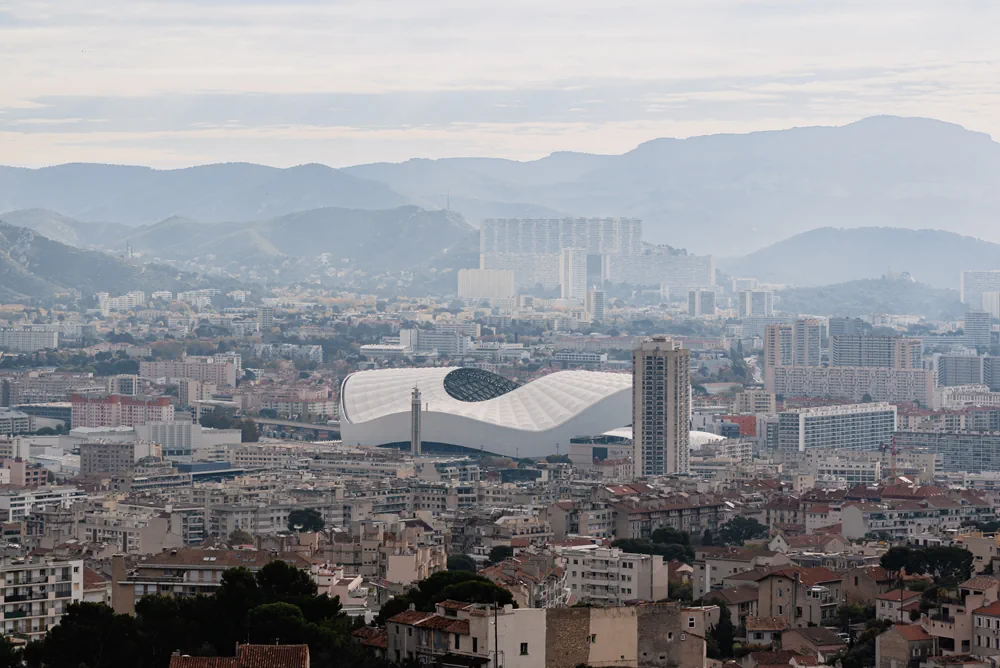 Marseille skyline with Olympique Marseille stadium Stade Velodrome

And that triumph wasn't so clean. This is the story of French club Olympique Marseille and how their victory in the 1993 edition of the Champions League was extremely controversial, filled with a lot of reports of cheating.

Before we talk about that final, we need to go back a little bit. It's 1986 and Olympique Marseille have just finished in a disappointing 12th place. The club seems directionless and with a lot of financial problems, which leads to them not having the necessary tools to challenge for trophies.

Enter Bernard Tapie.


Things changes for Marseille with Tapie's entrance
The man that bought Marseille in 1986 is now as infamous as their Champions League victory 1993... and it's not a coincidence. A successful TV salesman, Tapie expanded his business ventures and quickly made a fortune, which he directed towards resurrecting a lot of failed companies, including ADIDAS. He wanted to do the same with Marseille.

There is an argument to be made that Tapie's Marseille was the first ever "rich club" that wanted to fix their problems by throwing money at the problem and signing a lot of big games, and that is precisely what the new club president did to improve their performances and status. It would be a practice that became both celebrated and criticized a good twenty years prior to the arrival of Roman Abramovich to Chelsea, signaling the proper start of the "rich owner" era of football in the mid-2000s.

To put things into perspective, these were some of the players that were signed by Marseille during the years that Tapie was the owner of the club: Didier Deschamps, Enzo Francescoli, Chris Waddle, Eric Cantona, Jean-Pierre Papin, Alen Bokšić and Rudi Völler. In terms of football in the late 80s, you cannot do better than this, and it was through these players and many more that Marseille started to rise to the upper echelons of French and European football, fighting toe to toe with the elite of the sport.


The PSG of the 80s and 90s
Much like Paris Saint-Germain in the modern days, Marseille simply didn't have any opposition in France. They won the league from 1988 to 1992 in a row, constantly dominating while adding more and more pieces to their squad, refining the beast for the upcoming challenges in the European Cup. It seemed that France was too easy for them, but they never relaxed and kept winning and winning over there.

However, Europe was the great mountain to conquer. Tapie knew that no French club had won the competition before and wanted Marseille, his Marseille team, to win the competition. But it wasn't going to be as easy as the club constantly struggled with reaching the latter stages of the European Cup from time to time.

Of course, the biggest hit to their project until that point was when they lost the 1991 European Cup final to Yugoslavian team Red Star Belgrade. To claim that the French team were the favorites would be an understatement-it was a clear David vs. Goliath sort of final, and David won through penalties after extra time in one of the most boring major finals in football history. Even some of the players that participate in the final have talked about how boring it was.

They would eventually defeat a powerful AC Milan side, led by manager Fabio Capello and legendary striker Marco van Basten, in the 1993 final, where the competition switched its name and format to the UEFA Champions League. Defender Basile Boli scored the only goal that meant that Marseille won their first European Cup.

France finally had a European Cup winner... but it wasn't done by the book.


Marseille wins the UEFA Champions League
A week before the Champions League final, it was revealed through Valenciennes player Jacques Glassmann that he was offered money to go easy on the Marseille players -this money was offered by people working in Tapie's club. It was also revealed that other players from the Valenciennes squad had received similar offers, and an investigation started to take place.

There were also claims of doping, and players taking some injections to improve their performances, which is also served to highlight how willing Tapie was to push his club to victory. This would prove to be detrimental to the institution at the long haul.

As the months went by, a lot more elements of Marseille's corruption were discovered and the club was relegated to Ligue 2, France's second tier football division, and were stripped of their Ligue 1 title of the 1992/93 season and were not capable of defending their Champions League victory. As an interesting fact, there are theories about whether they were not stripped of their Champions League trophy and a lot of people think it was because the first edition of the new format and UEFA though that was going to be poorly viewed by some.

Regardless, Marseille had to start from scratch and the figure of Tapie was removed from the institution. Once regarded as the golden era of the club and a big window of opportunity for French football to grow, it became a tainted period of Marseille's history and one that is looked now as a massive disappointment.

French football has produced a lot of world class players and will continue to do so in the coming years, but there is always going to be an air of unfulfilled potential at club level. The 1993 Olympique Marseille team is what happens when desperation and lack of a moral compass take control of the situation.