Season start in the Jupiler Pro League tomorrow - who will be top scorer?
Champions season 2022/2023 in the Belgian Jupiler Pro League were Royal Antwerp, with Genk and Union St.-Gilloise just only one point behind. However, Gent had the golden boot winner in their team, the Belgian forward Hugo Cuypers.

However, ahead of the 2023/2024 season, none of the teams that finished 1 to 3 in the league last season are favourites, instead fourth placed Club Brugge are the hottest candidate to win the league, at least when you look at the odds from the betting companies. A strong reason for that is that they have made some of the heaviest signings of all the teams in the form of Brazilian striker Igor Thiago from Bulgarian side Ludogorets Razgrad, and Norwegian midfielder Hugo Vetlesen and Polish winger Michal Skoras. These three players costed Club Brügge close just below 23 million euros in total, which is a lot of transfer money for a Belgian team.

The closest challengers are the aforementioned teams ranked 1 to 3 last season. Also Gent are considered outsiders, which is not surprising given the strikers they have in their squad (more on that subject to come).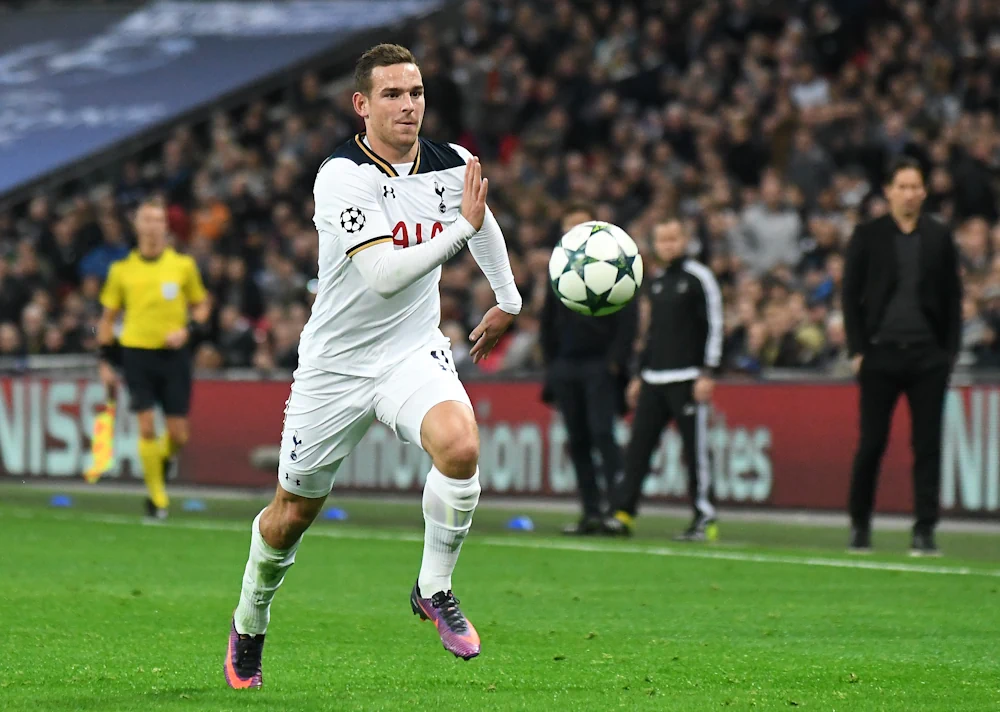 Royal Antwerp's Vincent Janssen, here playing in Tottenham, is one of the hottest candidates
Who will be top scorer in Belgium 2023/2024?
Here we list the five most likely candidates to win the top scorer title in Jupiler Pro League this season, with one of the world's most exciting striker talents in the first spot.


1. Gift Orban, Gent
Gift Orban came to Gent in January this year, that is, halfway into last season. In the closing months of that season, he scored 15 goals in 16 games for Gent. Among these goals, he scored 4 goals in one match, and two more hat-tricks, where one of them was scored in 3 minutes in a UEFA Europa Conference League against Istanbul Basaksehir. Given the explosive success the 20-year-old Nigerian had last season, we have to hold him as number one this season. If he continues as he did last season, however, it is very likely that a bigger club will buy him this winter (if he doesn't leave already before this transfer window closes).


2. Hugo Cuypers, Gent
Gent's Belgian Hugo Cuypers won the top scorer title quite comfortably last season with 27 goals scored (a third of the team's total goals), five goals more than the closest chasing player. On top of that, he scored 6 goals in the UEFA Europa Conference League, and Cuypers is in his "prime age" (26 years old), so it's hard not to have him as a very likely challenger for his teammate Orban.


3. Vincent Janssen, Royal Antwerp
Dutch international Vincent Janssen had a fine first season at his new club Royal Antwerp in 2022/2023. The 28-year-old not only won the league title with the team, but he also became the team's best goal scorer with 18 goals, and thus shared third place in the league's top scorer list. He can very well improve himself further this season, and thus, is a solid contender.


4. Ferran Jutglà, Club Brügge
The Spaniard Ferran Jutglà came from Barcelona ahead of last seasons and although he did not make a thunderous success, he had a pretty good first season at the club with 13 league goals and 2 goals in the Champions League. As Club Brügge are league title favourites this year, and Jutglà is likely to be in most starting elevens, he must be considered as one hot candidate this season.


5. Ayase Ueda, Cercle Brugge
The Japanese Ayase Ueda signed for Cercle Brugge from Kashima Antlers ahead of last season for the modest sum of €1.3 million euro. He came from several seasons as a solid scorer in the Japanese J1 Leauge, but it was difficult to guess how he would succeed in an intermediate league in Europe, that the Jupiler Pro League has to be considered to be. The answer was total success. Ueda scored 22 league goals and finished second in the top scorer list behind Cuypers. Given last season's results, we must include him in this list, despite him playing in a team that will likely be a mid-table team at best.