Jack Wilshere and a career that ended too soon
Arsene Wenger was known throughout his career for giving a lot of young players a chance and helping them grown into top class footballers, which helped him create some of the best Arsenal teams of all time. However, there is no argument when it comes to one of the biggest regrets he might have in his career: Jack Wilshere.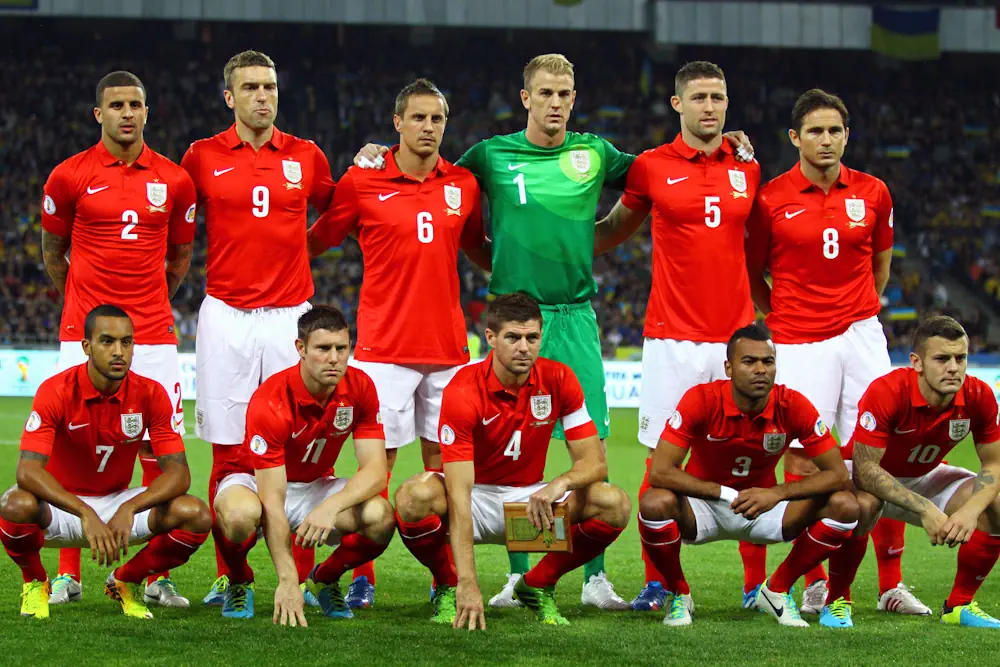 Jack Wilshere here in the English national team, bottom right corner, shirt number 10

It is obvious that Wenger is not responsible for Wilshere not living up to his potential, but there is no denying that this is a football player that promised so much and ended up doing so little. His early years at Arsenal suggested that he could have been one of the best players in England, only to be ravaged by injuries and inconsistency.

This time around we are going to talk about Jack Wilshere, his career and what went wrong.


The early days
Born in Stevenage, England, in January of 1992, Jack Wilshere joined the Arsenal academy at the age of nine. He was a lifelong supporter of the club and grew up admiring players such as Patrick Vieira and Thierry Henry, who were leading the Gunners to their prime years in the early 2000s.

Wilshere started to make a name for himself as a promising midfielder in the academy, starting to play at the reserves at just 16 years old, which quickly caught Wenger's eye. The Frenchman, never one afraid to take risks with young players, slowly integrating him to the team, with Jack paying a lot of attention to the captain at the time, Cesc Fabregas, as one to learn from.

He made his professional debut against Blackburn Rovers, entering in the 84th minute for Robin van Persie, in September of 2008, and became the youngster ever player for Arsenal, surpassing Fabregas himself. From 2008 to 2010, Wilshere wouldn't play much with the senior team (only 15 games across two seasons), but he was being integrating and gaining experience at top level football. Plus, he had a brief loan with Bolton Wanderers where he got more Premier League exposure.


Barcelona and the peak
To a lot of Arsenal fans, the 2010/11 season is widely regarded as Wilshere's peak and the time period where he really showed what he is made of. This was the season where truly came into his own as a player and started becoming a very major driving force for the team, particularly necessary since it was very likely that Fabregas would leave at the end of the season.

It would be in the Champions League, in February of 2011, where Wilshere would make a name for himself in the world of football. Against Pep Guardiola's Barcelona, in the heyday of Sergio Busquets, Xavi Hernandez and Andres Iniesta in midfield, Wilshere ran the show in those two matches and while Arsenal ended up getting eliminated, Jack was viewed as one of the best in the tie.

This was a very promising period because it showed that English football, at the time, could produce a player that could rival those that were at display at Barcelona. It seemed that the sky was the limit for Wilshere and that he was poised to become one of England's best players in the 2010s.


Injuries and decline
By the time the 2011/12 season started to roll in, Wilshere's hell began.

He had an ankle injury during preseason with Arsenal in the United States, and while at first it seemed like it wasn't anything serious, the player ended up needing surgery. Afterwards, it was proven that he wasn't going to play any game until 2012.

January of 2012 was viewed as a possible return date for Jack, but it proved to be way too optimistic. The player wanted to have a chance of playing the 2012 Euros with England, but the injury was too serious and didn't play any game for the entire season, which was a major setback in his career.

In fact, it could be argued that this is where Jack Wilshere's career started to wane greatly.

The next following three seasons had him playing at least 20 games across all competitions, often dealing with injuries and inconsistency. He would occasionally offer a bit of brilliance only to disappear for a couple of games and then getting injured, which maintained a cycle of struggle that he never truly got out of.

He was loaned in the 2016/17 season to Bournemouth to gain playing time and stability, and while things went somewhat well there, it was more of the same when he came back to Arsenal. Wenger's retirement at the end of the 2017/18 season cemented this, with Wilshere following suit and playing the next three years at West Ham, only amounting to 19 games across three seasons with the Hammers.

A return to Bournemouth for a year and then retirement in 2022 with AGF, a football club from Denmark, meant that Jack Wilshere stopped playing football at the age of 30 years old.


Conclusion
Jack Wilshere has gotten a lot of criticisms in recent years, with people claiming he was never that good and that he was overhyped by the English media. That is a bit of a stretch when you consider how he was a rare profile from the typical English midfielder: he was very graceful, intelligent and with a degree of technique that was more similar to Spanish football than what you normally see in the UK.

The saddest part about the whole thing was the fact that it was injuries, something that is often out of the player's control, what ended up taking a huge toll on him and his development, which often to the question of how much would he had accomplished if he never got those issues.

Sadly, you are never going to find out the truth when it comes to Jack Wilshere.