Italy Deservingly Wins the Euro 2020 Final Versus England
Football isn't coming home, but it's arriving in Rome as the Azzurri conquer the Three Lions during a tense penalty shootout victory.

A 1-1 draw following 120 minutes of nail-biting action saw the hopes of England's title drought since 1966 crumble, as Gianluigi Donnarumma saved Bukayo Saka's penalty spot-kick to secure the Italian squad in becoming the Euro 2020 champions.

If the heartbreak of Gareth Southgate, who missed a crucial penalty for England during the 1996 semi-final versus Germany, wasn't enough, a near-perfect decision-making two-hour final as manager ended in some questionable selections.

Marcus Rashford and Jadon Sancho were substituted just seconds out from the penalty shootout, a tactical decision that may haunt Southgate forever. Both men missed their penalties, causing questions to loom on the integrity of Raheem Sterling, Jack Grealish and the other England player's who'd been active throughout the entirety of the tournament. Rashford and Sancho were rarely utilized during the Euro 2020 competition, but Southgate was making substitutions because England's squad were fielding players that didn't want to step up.


How We Got There
A mere two minutes into the game, Kieran Trippier crossed a beautifully executed cross into the path of wing-back Luke Shaw. Shaw went on to volley the ball, giving England the lead, making it the fastest-ever goal in a Euro final. Online sportsbooks pitted England as the favourites, and their predicted lines were looking to prove correct - for a brief period at least.

After taking the early lead thanks to Luke Shaw's second-minute strike, the England squad spent most of the game under pressure by Roberto Mancini's side.

The relentless hard work put in by the Azzurri proved unmanageable for the Three Lions, as Leonardo Bonnuci squandered the ball past Jordan Pickford twenty-two minutes into the second half. England had managed to park the bus for 65 minutes, but their defensive approach should've been replaced with more counterattacking in mind because sitting back on a one-goal lead was never the brightest idea.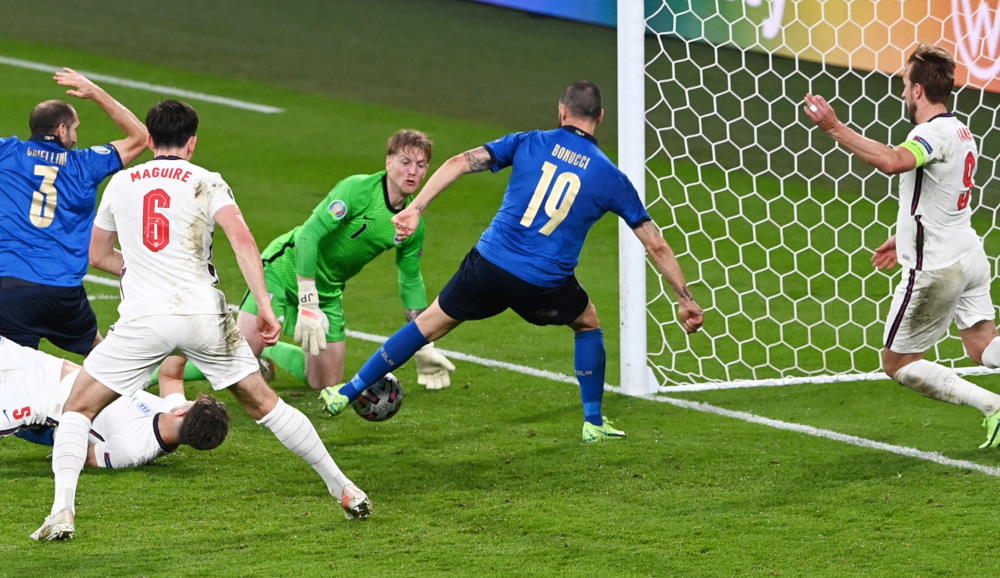 Goalscorer Bonucci, who also fielded the pitch during Italy's Euro 2012 final loss to Spain, became the oldest final goal scorer aged 34.

Italy was evidently playing with passion, and ironically it was their 39th anniversary since their 1982 FIFA World Cup victory.

As hopes were kept alive once the game equalled on the scoreboard, a significant loss to their attack came as Chiesa was forced off due to injury. Perhaps Domenico Beradi should've gained more praise when he delivered an outstanding tackle on Raheem Sterling during one of England's final chances to break the deadlock.

Despite England's late push, the score-line finished 1-1 at the end of 90 minutes. After 30 minutes of extra time, neither team came particularly close - ensuring the Euro 2020 trophy winners would be decided through the infamous "lottery" of a penalty shootout.

Andrea Belotti of Italy was the first player to miss, Pickford handed England the advantage, but the glory didn't last as Marcus Rashford hit the post. The second substituted player to assist England's penalty shootout in Jadon Sancho stepped up, and Gianluigi Donnarumma saved his penalty kick before Bukayo Saka followed the same fate for the fifth and final penalty.

The Two consecutive saves handed Italy the win after beating the hosts 3-2 on penalties, delivering 55 years of pain to become at least 56 as England's trophy failures continue.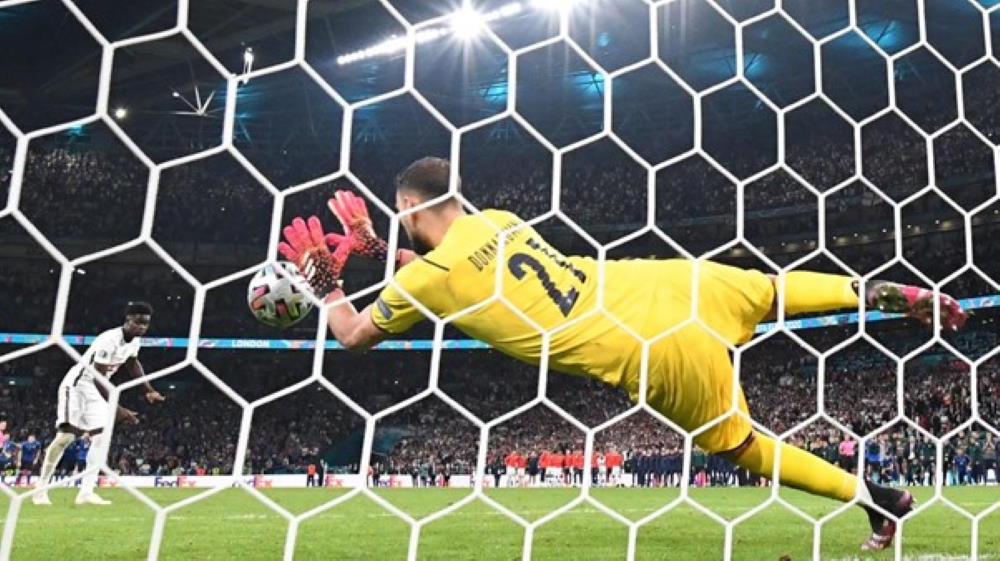 Former Manchester United superstar and Ireland international Roy Keane castigated the decision as a pundit for ITV television programming in the UK, casting a shadow over two players who could have stepped up before Saka during the penalty shootout.

"If you're Sterling or Grealish, you cannot sit there and watch a kid walk up ahead of you, and you can't,' Keane expressed.

"You can't sit there and go. 'I see a young kid, 19-years-old, a child, walking up in front of me, and I've played a lot more games, I've got a lot more experience'.

"Sterling, who has won a lot more games, won trophies. Gareth might have been thinking he's going to be six or seven, and you can't sit there. That must be hard to take; you've got to go to this young kid and say I'll step up before you'."

After the match, England's manager Gareth Southgate went public to support his team's efforts, saying: "In terms of the players, they have given everything they could have.

"Not only tonight but throughout the whole tournament. They should hold their heads high.

"They have pulled together to the country some incredible evenings, but the devastation of getting so close is difficult to put into context. You can imagine how the dressing room is."

Besides the England squad misery's, we cannot deny that Italy deserved the win. Throughout the 90 minutes of regular time, they were the better team - no ands, no ifs, no buts or maybes.