Importance of a Lethal Striker
The striker position holds immense significance in the football game.

This position is your ultimate route to goals that leads to victory. That's why teams spend a substantial amount, especially on the training and drilling of the striker position players.

Striker, also known as the center forward, is considered to be the match winner in any team.



"If you think you can do a thing or think you can't do a thing, you're right."



The famous quote from Henry Ford denotes that it's all a matter of mind.

Confidence, coordination, and strength are the three most essential components a striker needs to blow the competition away. If he is determined to play with a positive mindset and score as many goals as possible for the team, he will eventually do so.

No position faces more attention, appreciation, and criticism than the striker in the football ground.

Talking about the appreciation centre forwards receive, the Ballon D'Or since its invention in 1956 has been awarded forty times to forwards. It advocates how important a lethal striker is in football.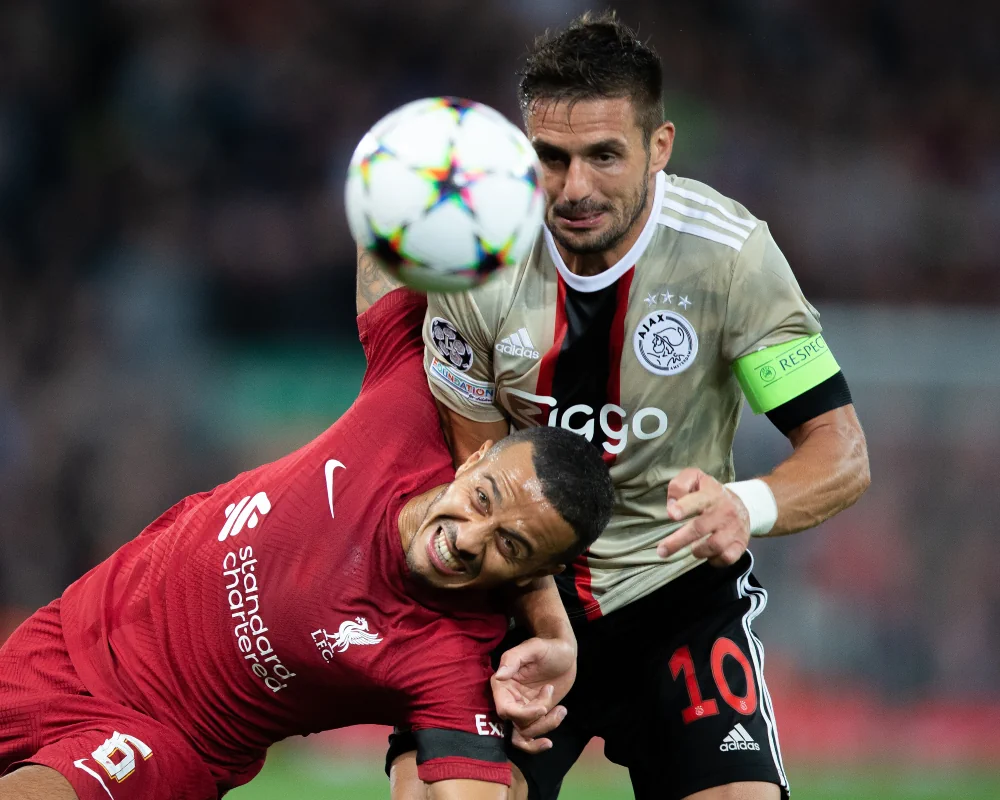 Dusan Tadic, Ajax (also in picture Thiago Alcantara, Liverpool)

As modern football keeps on transforming, there is a rise of new terminology for strikers called "False 9" where the striker is not sticking to the box, rather rotating around. Ajax's skipper Dusan Tadic, Liverpool's Roberto Firmino, and Lionel Messi are amongst the best false 9 in modern football.

They keep on manoeuvring around the pitch rather than staying static and produce match-winning goals and assists for the team. However, talking about the top scorers in the top 5 leagues of Europe, Ciro Immobile, Robert Lewandowski, Jamie Vardy, and Karim Benzema are all lethal strikers rather than false 9.

It is the utmost duty of a striker to score goals as well as receive long balls and create goal-scoring chances, running into spaces, and blindside defenders.

Robert Lewandowski was the foundation behind Bayern München's treble-winning season 2019/20. The German Champions became the only second club to win the treble twice. They finished their season with 30 consecutive undefeated games in all competitions while winning 29 of those 30 matches.

The double treble winners also set the record by humiliating FC Barcelona 8-2. Lewandowski had an instrumental role behind the German ace club. He scored unbelievable 55 goals and assisted 10 playing just 47 games. He kept on making records for his club and won them the Champions League title for the first time after 2013.

Teams are always dependent on strikers heavily for scoring goals and making an impact on the team. They are the driving force on any side. Clubs prefer to have lethal strikers in their team who can just provide those extra edges and light up the entire team since football is won by scoring goals.

Talking about the Champions League season 2020/2021 of Champions League, both Man City and PSG played most of the season without a proper striker. The managers were playing with wingers and false nines. PSG failed to win the League 1 title for the first time in the last 10 years, while City lost the most important game, the Champions League final to Chelsea.Modern football might have transformed a lot but still, strikers have significant value in any football team. Without a proper lethal striker, teams are considered to be incomplete.

Many pundits believe there are not many lethal strikers coming up the ranks as did in the past. However, Erling Haaland is the ultimate example of a proper lethal striker in modern-day football. No matter how much revolutionized football gets, strikers will always have a significant impact on the team.