Eusébio - From Rags to Legendary Football
Today, a would-be football star is discovered early by scouts from the biggest football teams, enrolled in a high-profile football academy at an early age, and - more often than not - offered a contract by the same team, and starting a career. Decades ago, things didn't work the same way. Who knows how many incredibly talented youngsters were lost to the cause of football because they never got discovered. This makes stories like that of Eusébio, the best football player Mozambique has given the world, that much more miraculous.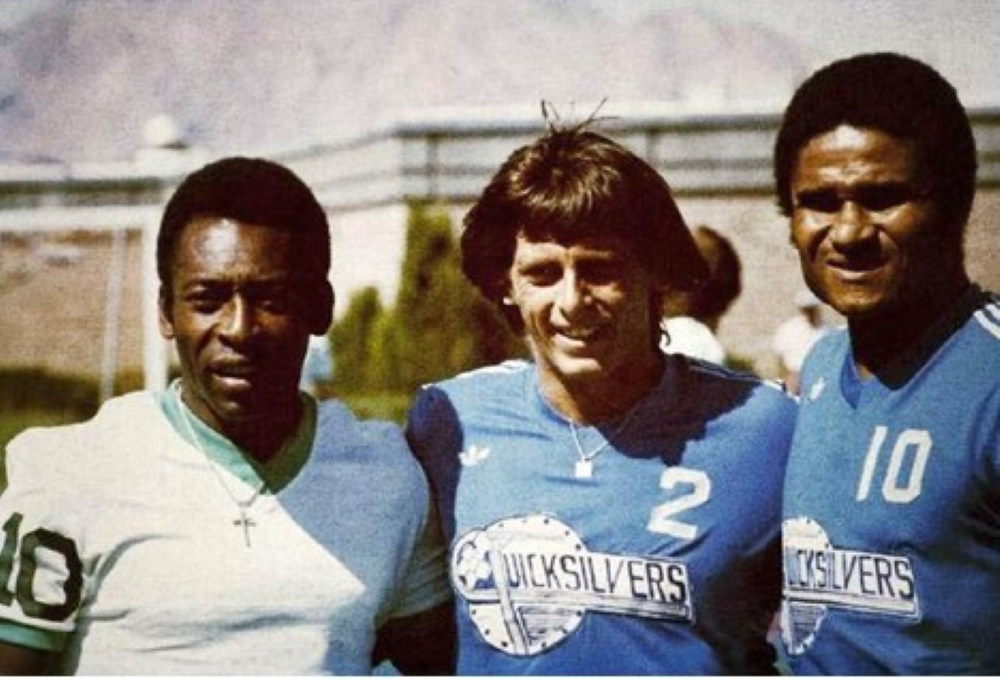 Eusébio with Pelé /left/ and Brian Joy in April 1977 | Photo:
Wikipedia
Who was Eusébio
Whenever you search for football bets in Mozambique, you will stumble upon at least a brief mention of Eusébio da Silva Ferreira - professionally known simply as "Eusébio". Bearing the nickname "Black Pearl", "Black Panther" or simply "Rei" (it means "King" in Portuguese), he was a legendary footballer in the 1960s and 1970s famous for his speed, his ferocious right foot, and his technique.

It may seem hard to imagine that his football career was almost over before it could've started.


The rags
Born in Maputo - Lourenço Marques at the time, when Mozambique was still a Portuguese territory - he Eusébio grew up in an extremely poor environment - and things got worse when he lost his father at the age of 8. His love for football started to show at an early age, when he used to skip school to play football - barefoot, with improvised balls.

At the age of 15, Eusébio played with Os Brasileiros Futebol Clube, a local football club. He tried to join O Deportivo (today Grupo Deportivo de Maputo), the local branch of the Lisbon-based club Benfica but he was turned away because of an issue with his knee. He didn't give up, though - he joined Sporting Lourenço Marques, another local club, and kept playing football anyway. Ultimately, he managed to join O Deportivo thanks to the efforts of José Carlos Bauer, a former player and manager, who saw him run at one of the matches - the youngster ran 100 meters in 10.8 seconds, barely under the world record at the time.


The Legend
Eusébio joined Benfica at the age of 18, moving to Lisbon. It was a controversial move, considering that his previous team - Sporting Lourenço Marques - was a subsidiary of Sporting Lisbon. After some disputes, Eusébio was cleared to play - and he didn't leave for a decade and a half. His debut with the club - a friendly match against Atlético Clube de Portugal in May 1961 - turned him into an instant favourite: he scored a hat-trick, so the match ended in a 4-2 victory.

Eusébio played 440 official matches with Benfica in his 15-season tenure with the team (301 in the Primera Liga), and scored a total of 473 goals (317 in the top-tier league), along with 59 goals in 78 UEFA matches. This has made him Benfica's all-time top goalscorer.

But his talent on the turf and the number of goals he scored were not the only things that made him a legend - it was his dedication. Eusébio suffered many injuries - his left knee was operated on six times during his career - but never stopped playing football because he knew that both the team and the fans depended on him.

Ultimately, he left Benfica in 1975, then continued to play sporadically both in Portugal and beyond. Ultimately, he retired from active football in 1979 - his performance was permanently affected by his injuries by this time - but never left the turf: he was part of the Portuguese national team's coaching staff until his passing in 2014, at the age of 71.