Erling Braut Haaland, the Norwegian projected sto set new records
Manchester City forward Erling Braut Haaland has followed well into the footsteps of his father, in signing up for Manchester City. He was the biggest capture in the Premier League going into the 2022/23 season and boy, he has lived to the billing.

Termed the toughest league in the world, the Premier League was expected to be a massive test for the man who had already proven his mettle in the Bundesliga while turning out for Borussia Dortmund. However, signing for the top team in England was always going to make things bearable.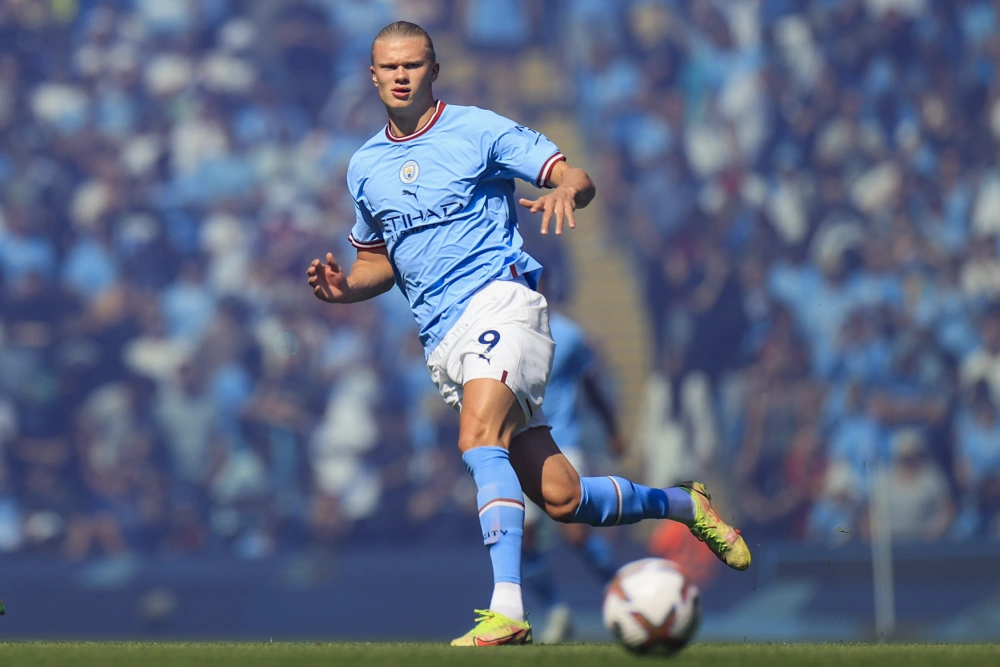 He took it all in stride and it didn't take him too long to settle in and start setting new trends in not only Manchester City, but also the Premier League. As at Sunday 22nd January 2023, Haaland had spent half a season in the Premier League, but the three goals he scored as City beat Wolves 3-0 was already his fourth hat trick in his young Premier League career.

The next fastest man to reach that milestone - four Premier League hat tricks - was former Manchester United forward Ruud van Nistelrooy, who did it after 65 games. Luis Suarez also achieved the milestone, but only after 81 matches, while Alan Shearer and Robbie Fowler did that at 86 and 89 games respectively.

Haaland has already been singled out as the cog in Manchester City's title race and it is not unusual to see him among predicted scorers in football predictions and betting tips for today on SportyTrader.

Haaland's scoring returns of 1.51 goals per game in the Premier League has already seen him surpass the tally set by last season's joint top scorers in the league - Son Heung-min and Mohamed Salah, both who managed 23 goals. Haaland is on 25 goals after 20 matches and has set his eyes on another record - that of the highest scorer in the league in one season.

The record is currently held jointly by Andy Cole and Alan Shearer, and it was set in consecutive Premier League seasons in 1993/94 and 1994/95, by Cole and Shearer, then playing for Newcastle United and Blackburn Rovers respectively.

Mohamed Salah came close to breaking, or equaling this record in the 2017/18 season, when the Liverpool forward scored 32 goals.

Haaland is sure to finish as the top scorer in England this season; at 25 goals, he has already opened up a 10-goal gap ahead of the next challenger, Harry Kane, who is on 15. Haaland however still has a very long way to go, if he is to be considered among the leading lights as far as all-time league top scorers are concerned.

The all-time leading goal scorer in the Premier League is Alan Shearer, whose top flight career had him net 260 goals. The only other player in the top 10 of this list and still actively playing is Tottenham Hotspur forward Harry Kane, who has 198 league goals, and he is third on the roster.

This season, with 25 goals bagged in 20 league appearances, a number of predictions have tipped Haaland to hit at least 40 goals, which will be a record for one season, and being his first season makes it even more remarkable.