Antonio Di Natale and the legacy of the one-club man
Loyalty to a football club is something that has become rarer and rarer in the sport. Nowadays, football is more than ever just a job for a lot of players and that is fine as long as they are professionals and perform, but there is no denying that the lack of romance between a footballer and his club is certainly missing. It is one of the things that made the sport so endearing to a lot of people.

In that regard, the element of the one-club man is something that has always been very appealing: the player that never left a specific club and stuck by their side through thick and thin. And while today's protagonist didn't actually play his entire career in one club, he definitely earned the accolade to be in this discussion.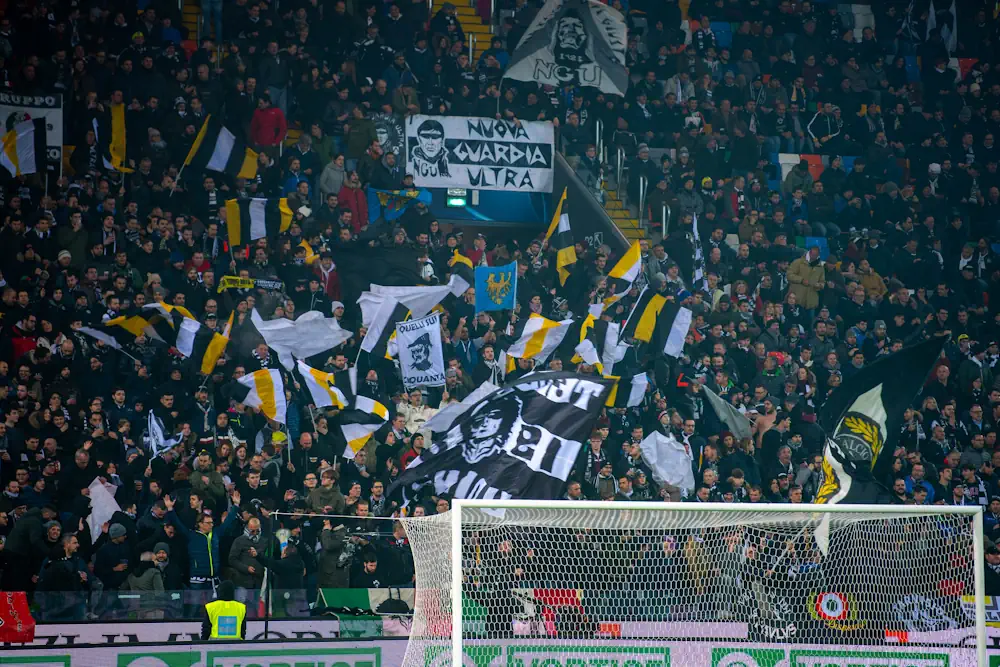 Udinese fans

Today we are going to talk about Antonio Di Natale and his legacy with Serie A club Udinese. One of Italy's finest forwards in the last twenty years, Di Natale created a lot of great memories in Udine and we are going to remember some of them.


Before Udinese
Antonio Di Natale was born in Napels in 1977, but moved to Empoli in order to progress with his career in football. And while he did get in Empoli's youth system, he was loaned to teams in the lower divisions of Italian football, such as Iperzola, Varese and Viareggio, scoring a decent amount of goals in the late 90s and slowly cementing a place as a promising talent in Serie B.

After those three loans, he started to play regularly with Empoli's senior team in the 1999/20 season, and while he only scored 7 goals in 30 games across all competitions, it was enough for him to warrant more playing time. By the time we reached the 2001/02 season, where Empoli got promotion to Serie A, Di Natale had scored 18 goals in 42 matches across all competitions and was one of their star performers.

In that regard, his transition to Serie A for the first time in his career was actually fairly smooth, scoring 13 goals in 27 league games. However, the 2003/04 season wouldn't be too kind for Antonio and Empoli, with the forward scoring only 5 league goals in 33 matches and the team getting relegated to Serie B once again.

However, in the summer of 2004, Di Natale would be picked up by Udinese, a club that has become known for signing promising gems in the transfer window, and their love story would begin.


Love in Udine
It's interesting to look back at the earlier years of Di Natale's time at Udinese because it wasn't the straight line that a lot of people might think it was. He was originally playing second fiddle to strikers Vincenzo Iaquinta and Fabio Quagliarella, focusing on providing service and being creative rather than being the focal point of the attack.

Now, Di Natale was a lot more than just a goalscorer: his combination of technique, skill and creativity drew obvious comparisons to the likes of Francesco Totti and Alessandro Del Piero, which was more than warranted. And to Antonio's credit, he did this job quite well, but it would around the 2009/10 season that the legend would actually begin at its absolute peak.

To put things in perspective, he scored 55 goals in his first five seasons at the Friuli, but from 2009 to 2013 he would end up scoring 103 goals in 140 league appearances. This period is widely regarded as Di Natale's prime years and this is where his legacy started to be built.

Another element worth taking into account was the arrival of manager Francesco Guidolin in the summer of 2010. Mainly known for his four spells in Palermo, Guidolin also found a home in Udine, staying at the club for four seasons, and he is widely viewed as the man that got the most out of Di Natale.


Achievements
Even though Di Natale never won a trophy in his career, one of the great tragedies of modern Italian football, the reality is that his contributions to Udinese were far beyond his goal contributions and that has to be taken into account. Turned into the club's captain in 2007, Antonio Di Natale has been widely viewed as Udinese's greatest ever player.

During his time at the club he managed to play with a wide variety of top class players that had great spells in big teams, such as Samir Handanovic, Alexis Sanchez, Juan Guillermo Cuadrado, Medhi Benatia, Bruno Fernandes and many more. All them had a spell in Udine and spoke wonders of Di Natale.

He also won the top goalscorer of the 2009/10 season in Serie A with 29 league goals. He helped Udinese become a constant challenger for European positions in one of the most challenging leagues in the world and they even managed a third place in the 2011/12 season, which is the highest position that the club has ever achieved, at least as of this writing.

He is the sixth highest goalscorer in Serie A history, he rejected offers from some of the best teams in the world and retired at the end of the 2015/16 season at 39 years old. And the most impressive part is that he retired while still performing, even if his game time had been reduced, which goes to show the level of professionalism he had shown until that point of his career.


Conclusion
Antonio Di Natale is one of the best players in the history of Italian football and one of those stories that make the sport all the more enjoyable. He chose his own happiness over money and even trophies, preferring to stay loyal to a humble Italian football club.

This is the kind of players that make the game of football all the more memorable. This is Antonio Di Natale.