Andriy Shevchenko and his frustrating Chelsea stint
There is a common misconception among football fans that failing at a club means that you are automatically a bad player. This is something that is very common in English football: since a lot of English folks don't watch other leagues, if you struggle and fail in the Premier League, then you are a bad player and a flop in their eyes.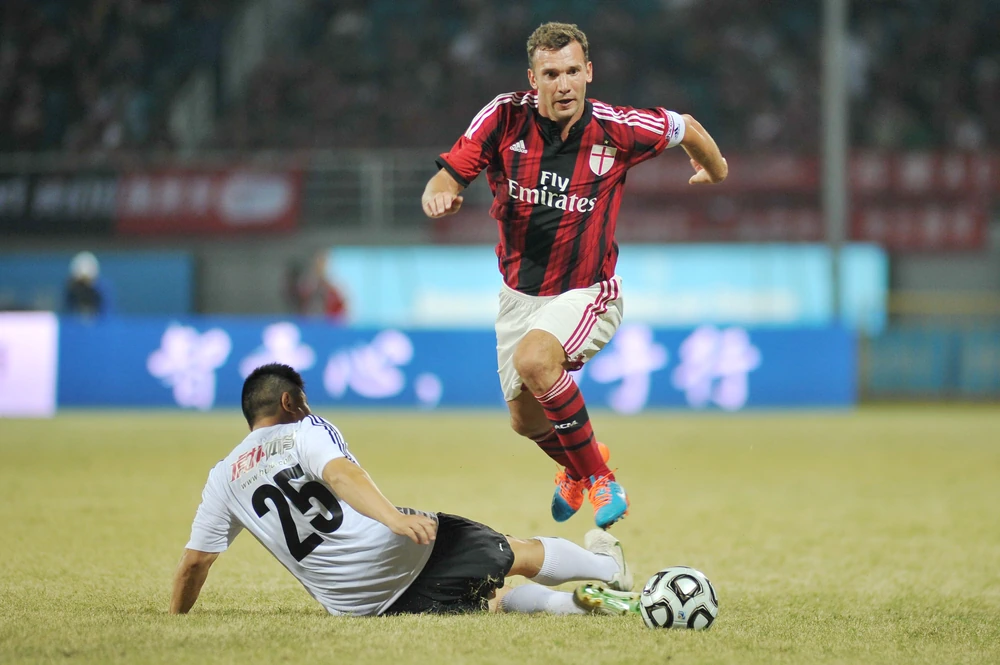 Andriy Shevchenko - here in AC Milan

However, there are examples of players with some of the finest credentials in the sport and they have failed to make an impact in English soil. Today's protagonist, the legendary striker Andriy Shevchenko and his stint at Chelsea in the mid-2000s, is a prime example of this.


A world class player at AC Milan
The Ukrainian needs little to no introduction: his credentials with AC Milan and everything he won with the Italian side, plus becoming one of the deadliest strikers of the early 2000s, has made him an absolute legend of the game. "Sheva" proved time and time again that he was a world class player during his time at Milan, both in Italy and in the grandest of stages, the UEFA Champions League.

So, by the summer of 2006, Shevchenko decided that it was time for a change, and it also helped that he was persuaded by then-Chelsea owner, the Russian Roman Abramovich, to make the move to England and to Stamford Bridge. Abramovich rated Shevchenko highly and thought that the Ukrainian was the missing piece to bring the UEFA Champions League to London once and for all, thus cementing the supremacy of his project.

There were only a couple of issues that proved to be decisive in Sheva's time at Chelsea and those factors would prove to be key in the final outcome.

One of the first and most important reasons was then-manager of the Blues, Jose Mourinho. The Portuguese needs no introduction: he won everything there is to win in the game and, back in 2006, he was in his prime years after having won two Premier League trophies in a row with Chelsea while being one of the hardest teams to play against in English football history. At the time, Mourinho couldn't do no wrong in people's eyes.

And he didn't ask for Shevchenko.


Tough competition among the strikers at Chelsea
Didier Drogba had cemented himself as one of Chelsea's best players and one of Mourinho's most trusted men, so there was a certain logic as to why the Portuguese manager didn't want to unsettle the Ivorian. Plus, strikers such as Carlton Cole, Hernan Crespo and Eiður Guðjohnsen all left the club that summer, but the Blues already signed Salomon Kalou from Feyenoord, who was Mourinho's request.

However, the club paying a record fee of €43.875 million for the Ukrainian in the summer of 2006 forced Mourinho's' hand and he had to play Shevchenko. Some would say that starting a player of this caliber shouldn't be a problem at all, but the issue was that Mourinho wasn't happy about starting a player he didn't ask for and being forced to do so after having won a lot of trophies in two years with Chelsea.

So, there was that, and also the issue of the actual adjustment. Having to find a way to accommodate Shevchenko proved to be costly as both the player and the team struggled to find a way to balance each other. Chelsea already had a successful formula, and the former AC Milan man was a signing without much thought put into it.


Shevchenko struggled in EPL
There was also the issue that Shevchenko himself struggled in the Premier League. English football is faster, and a lot more physical than other top leagues, so Sheva, no longer in his prime years, was ill-prepared to cope with the demands of the competition. Add to this the aforementioned reasons and you have a formula for disaster.

Shevchenko was already pushing thirty by the time he arrived to England, so there was an argument to be made that he was no longer in his prime years, but he was signed mostly due to what he had done over the years and not because of who he was. Having said all that, it is very likely that not even the most negative of Chelsea fans were expecting such a proven player to struggle the way the Ukrainian did during his two seasons at Stamford Bridge.

In fact, the flop of Shevchenko at Chelsea would soon become common practice at Stamford Bridge when it came to the striker position: Abramovich would often sign strikers that were not necessary or didn't fit with what the manager wanted due to the fact that he liked them or were a big name that could, in theory, propel them to success. Sadly enough, Shevchenko proved to be the rule and not the exception.


His performance at Chelsea
Shevchenko would end up scoring a total of 22 goals in 77 games across all competitions during his time at Chelsea-a meek sum when compared to the heroics he displayed at AC Milan in his prime years. It is a major testament of what happens when even a world class player doesn't have the right conditions to succeed at a good team.

From a neutral perspective, it is a shame that Shevchenko never truly lived up to the expectations, and also the fact that English football never managed to enjoy him at his absolute best. But it also works as a very good example of how players need the right environment, the right system and the right setup in order to be a massive hit.

Andriy Shevchenko is always going to be one of the best players of his generation and is very likely to keep the title of the best Ukrainian player of all time for many years to come, but the reality is that his time at Chelsea was a disaster on many different levels and him, Abramovich and even Mourinho himself would agree with that assessment.

If things had been a little different, perhaps the story would have been as well.