The 10 best goalscorers in football history (Part 1)
Throughout the history of football, coaches have created tactics and strategies to score more goals than the rival and those have evolved over time and even have as many variations and nuances as the degradation of a color. What is usually constant is the presence of goalscorers, players with an innate ability to score goals using their own particular characteristics that allow them to stand out from the rest in this regard.

In this sense, the top goalscorer of each football tournament has been awarded for many years and there are even awards that cover an entire season such as the Golden Boot, to cite an example. Although, currently there is a great control of the statistics and everything is registered, it was not always like that and that is why there are numbers that do not coincide, since the information that one organization handles is not the same as that of another and even, the players themselves.

Next, we are going to review the 10 best goalscorers in football history according to the International Federation of Soccer History and Statistics (IFFHS), this in order to avoid confusion and follow the same criteria.


10. Joe Bambrick (616 goals)
Joe Bambrick was a Belfast-born Irish striker whose career spanned the 1920s and 1940s. He started out with Glentoran FC, making his professional debut in 1926 and making it clear from the outset that he was a born goalscorer, which earned him it was enough to sign for Linfield in his native country, just a year after his debut. With this club he would score 509 goals in just 8 seasons, the most prolific being 1930-31, since he would score 96 goals in all competitions.

With the Irish national team he would achieve a historic milestone as he scored a double hat-trick in an official match against Wales, in which the Irish side won 7-0. He spent the last years of his career in England, specifically at Chelsea and Walsall.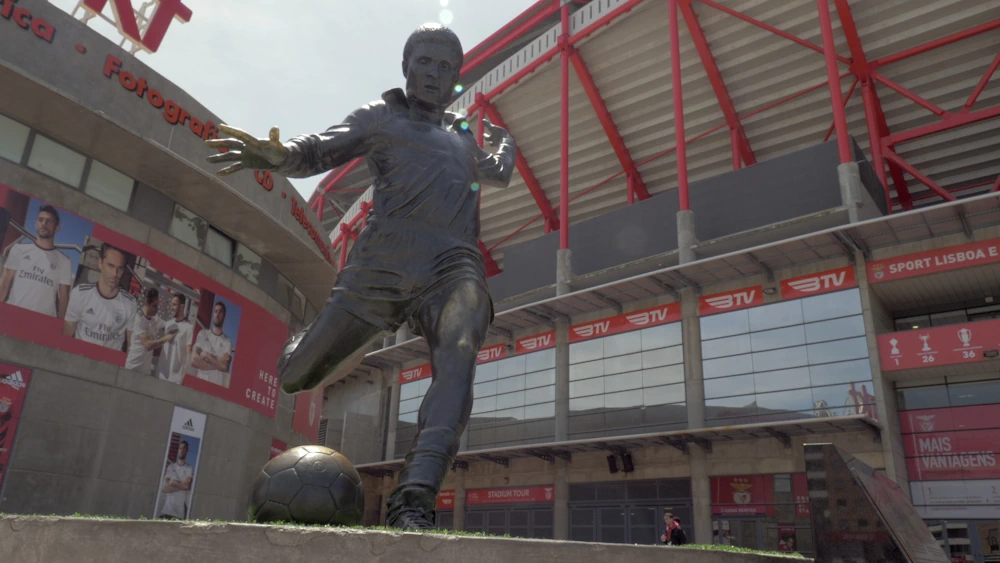 Statue of Eusébio in front of Estadio da Luz
9. Eusébio (619 goals)
The Portuguese legend, born in Mozambique, took his first steps in professional football at a young age with one of the local teams, the Sporting Clube de Lourenco Marques (today called CD Maxaquene), which was a club that had links with Sporting Clube de Portugal for take their best prospects to prove themselves in the Lisbon club.

However, in Eusébio's case, Jose Carlos Bauer, a former Brazilian goalkeeper who had been trained by Bela Guttman at Sao Paulo, recommended Eusébio's signing to the Hungarian. Guttman was training Benfica at that time and the signing could not go better since the speed and handling of both profiles turned out to be a lethal weapon that the Hungarian knew how to take advantage of. Eusébio scored 473 goals in 440 appearances for the club as well as leading them to win an enormous number of titles including the 1962 European Cup. The last years of his career were spent with clubs in the United States, Mexico, Canada and Portugal.


8. Gerd Müller (634 goals)
The famous Gerd Müller, or "Der Bomber" as he was called, was one of the deadliest goalscorers in football history, standing out for his strong shot, quick movements, and precise finishes despite not having an imposing physique. He began his career at 1861 Nordlingen, his hometown club, where he quickly rose to prominence and led to Bayern Munich signing him. Curiously, at that time, the Bavarian club played in the second tier of German football, but, with the contribution of Müller, they achieved promotion to the Bundesliga, starting a journey where they would win many important titles such as four Bundesligas or three European Cups in a row.

With Die Mannschaft, he would be champion of Europe and the World, in which he is the second highest scorer in history of the German national team although he is the one with the highest scoring average (1.1 goals per match). Müller would end his career playing for the Fort Lauderdale Strikers in the United States.


7. Jimmy Jones (647 goals)
He was an Irish striker who, along with Gerd Müller, is the player who needed the fewest active seasons to enter this top (17 seasons). Jones was formed at Glenavon although he did not have the opportunity to play in the first team despite his very good scoring numbers in their youth teams, so he went to play in an Irish amateur league, with the Shankill Young Men.

From there he signed with Belfast Celtic, where he showed his talent at a professional level, capturing the attention of several English clubs. However, during a match against Linfield, fans invaded the field and attacked some players, being Jones one of the main affected ones because they broke his leg. After testimonial spells in Larne and Fulham, he arrived at Glenavon where he would score 517 goals in 447 matches and would be largely responsible for the club's most successful period. After brief stints at Portadown, Bangor and Newry Town, he decided to hang up his boots as the all-time top scorer in the Irish league.


6. Josef Bican (720 goals)
The name of Bican gained notoriety in recent times since the Austrian-Czech was considered the top goalscorer in history by some organizations, making him the reference that Cristiano Ronaldo had to overcome to obtain that recognition. However, the data from Bican range from the 720 goals recognized by the IFFHS to the more than 950 goals attributed to him by the RSSSF (Rec.Sport.Soccer Statistics Foundation).

His beginnings were in his native Vienna clubs such as Farbenlutz, Rapid Wien and Admira Wien until he signed for Slavia Prague where he became a legend, scoring 535 goals in 272 matches, with an impressive average of 1.97 goals per match. After 13 seasons at Slavia, Bican continued to play in Czechoslovakia maintaining similar goalscoring records finishing with 11 top goalscorers awards in the league. At the international level, he played with the Austrian and Czechoslovak national teams and represented the protectorate of Bohemia and Moravia.

This is only the first half of the article and we will explore the five greatest goalscorers of all time very soon.

The second part is now available, read about the top 5 scorers ever in the whole world here.