Scoring Legends: Exploring Record-Breaking Goal Scorers in Europe's Top 5 Leagues
In the pantheon of European football, the pitch is a battlefield, and the goal is the treasure sought by warriors clad in club colors. From the thunderous boots of Alan Shearer to the balletic brilliance of Lionel Messi, goal scorers are often the heroes in a narrative woven through heart and history.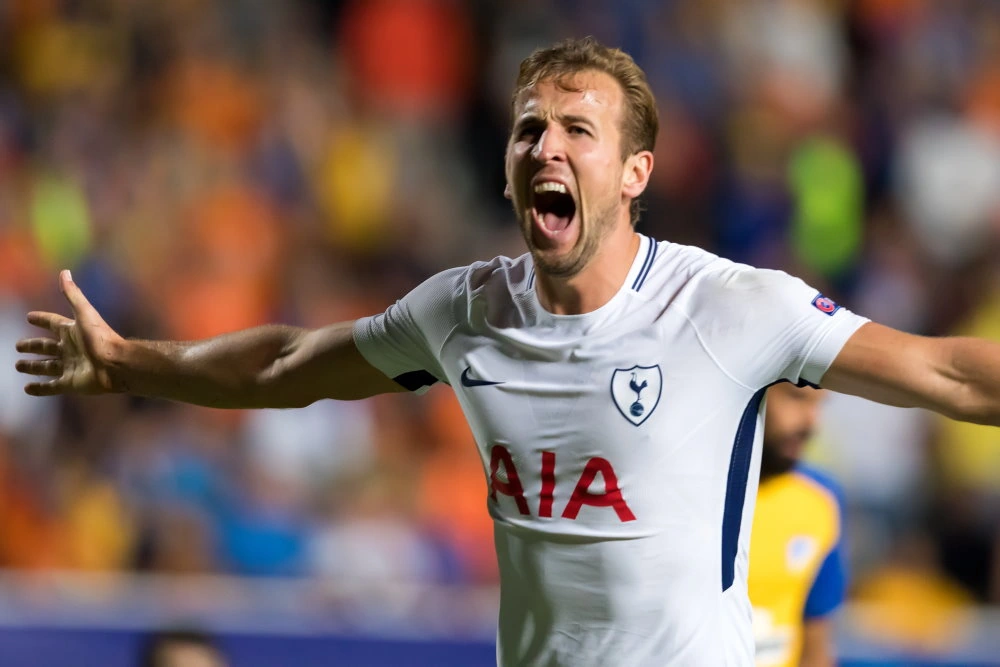 Harry Kane - one of the top scorers in EPL history
Premier League's Legendary Footballers
As we venture into the memoirs of Premier League history, we are graced by players who have been nothing short of legendary. Their goal-scoring prowess is the stuff of folklore.

Alan Shearer is the undisputed king, with 260 goals in 441 games. The Englishman's sheer power and goal-scoring acumen for Blackburn Rovers and Newcastle United made him the epitome of a classic number nine.

Harry Kane, still an active player, currently has scored more than 200 goaLs in over 300 games. The Tottenham Hotspur striker's versatility, clinical finishing, and ability to score from seemingly impossible angles have made him a modern-day icon. His quest to surpass Shearer's record is a narrative to behold.

Wayne Rooney, the Manchester United legend, amassed 208 goals in 491 games. His fearless approach, coupled with a gift for scoring audacious goals, made him an integral part of United's success.

Andy Cole's innate ability to be in the right place at the right time saw him notch 187 goals in 414 games. His partnership with Dwight Yorke at Manchester United is still talked about with reverence.

These players, with their unerring ability to find the back of the net, are the true titans of Premier League football.


La Liga's Scoring Maestros
These are the players whose flair and finesse have painted masterstrokes on the Spanish canvas for generations to cherish.

Lionel Messi sits atop this majestic list with 474 goals in 520 matches. His time at Barcelona from 2004 to 2021 was an era of artistry, where each goal seemed to redefine the limits of human ingenuity. His brilliance, close control, and ability to score from every conceivable situation make him an unrivaled legend.

Cristiano Ronaldo, with his relentless hunger for goals, plundered 311 in a mere 292 matches for Real Madrid between 2009 and 2018. His explosive power, aerial prowess, and deadly finishing were the cornerstones of his record.

Telmo Zarra, a blast from the past, scored 251 goals in 278 matches between 1940 and 1955.

Karim Benzema, the epitome of grace and finesse, scored 238 goals to his name in 438 matches. His time at Real Madrid from 2009 until the end of the 2022/23 season stands as one of the most iconic in world football. Once the season had ended, Real Madrid revealed Benzema's transfer to Saudi Arabia.


Robert Lewandowski - one of Bundesliga's best scorers
Bundesliga's Goal-Scoring Titans
These sharpshooters have etched their names in the Bundesliga with a combination of grace, power, and clinical finishing.

At the pinnacle stands Gerd Müller, affectionately known as "Der Bomber." His incredible tally of 365 goals is a testament to his uncanny ability to find the back of the net. Playing for Bayern Munich, Müller's poaching instincts were unparalleled, as he consistently found himself in the right place at the right time.

Robert Lewandowski, a modern-day legend, has been terrorizing defenses with his mixture of physicality and deadly accuracy. Accumulating 312 goals for Borussia Dortmund and Bayern Munich during his time in the Bundesliga.

Klaus Fischer's 268 goals came through a mix of elegance and sheer will. He was known for his acrobatic bicycle kicks and fearless attitude, playing for 1860 Munich, Schalke, Cologne, and Bochum.

Jupp Heynckes, who scored 220 goals for Borussia Mönchengladbach and Hannover, was a predatory striker. His later exploits as a manager, particularly with Bayern Munich, have only added to his legendary status in German football.


Serie A's Unrelenting Legends
Serie A, the top Italian league, boasts a heritage of goal-scorers who have illuminated the world of football with their skills and abilities. Here's a look at the all-time top goal-scorers in Serie A history.

Leading the pack is Silvio Piola with 274 goals. Playing for clubs such as Pro Vercelli, Lazio, Juventus, and Novara, Piola's career spanned from the 1930s to the 1950s. A classic center-forward, Piola combined strength, technique, and intelligence to score all kinds of goals.

Francesco Totti, the eternal captain of AS Roma, is second on the list with 250 goals. Spending his entire career at Roma, Totti was not just a goal-scorer but a symbol of loyalty and dedication. His creativity, vision, and finesse earned him the adoration of football fans around the world.

The legendary Swedish striker Gunnar Nordahl scored 225 goals playing for AC Milan and AS Roma. His physicality and instinctive finishing ability made him one of the most formidable forwards during the late 1940s and 1950s.


Ligue 1's Football Legends
In Ligue 1, the French top-tier league, there is a rich history of strikers who have made their mark through sheer goal-scoring prowess.

Topping the list is Delio Onnis, an Argentine-born striker who enchanted French fans with his astonishing 299 goals in 449 matches. His goal-scoring exploits primarily for AS Monaco between the 1970s and early 1980s have cemented his place as Ligue 1's all-time top scorer.

In second place stands Bernard Lacombe with 255 goals in 497 matches. A player who exhibited great strength and an eye for goal, Lacombe was an essential asset for Olympique Lyonnais and Bordeaux in the 70s and 80s.

Herve Revelli, with 216 goals in 389 matches, is third on the list. A Saint-Étienne legend, Revelli's superior finishing made him a consistent goal-scoring machine in the late 60s and 70s.

Roger Courtois, who played in the earlier days of French football, was a prodigious talent, scoring 210 goals in 288 matches. His style was characterized by power and precision, making him a dominating presence in the league during the 30s and 40s.


An Inspiration to the Youth
Football's global appeal and exhilarating character are reflected in the brilliance of these goal-scoring titans across different leagues. These players have fashioned magical moments with their goals on grounds ranging from the gritty English Premier League to the magnificent canvases of Serie A, from the flare of La Liga to the passion of the Bundesliga and Ligue 1. While celebrating the benchmarks they have set, let's also keep an eye on the up-and-coming stars who will inevitably follow in their footsteps.